Ask a PT: How do I stick with my program over the holidays?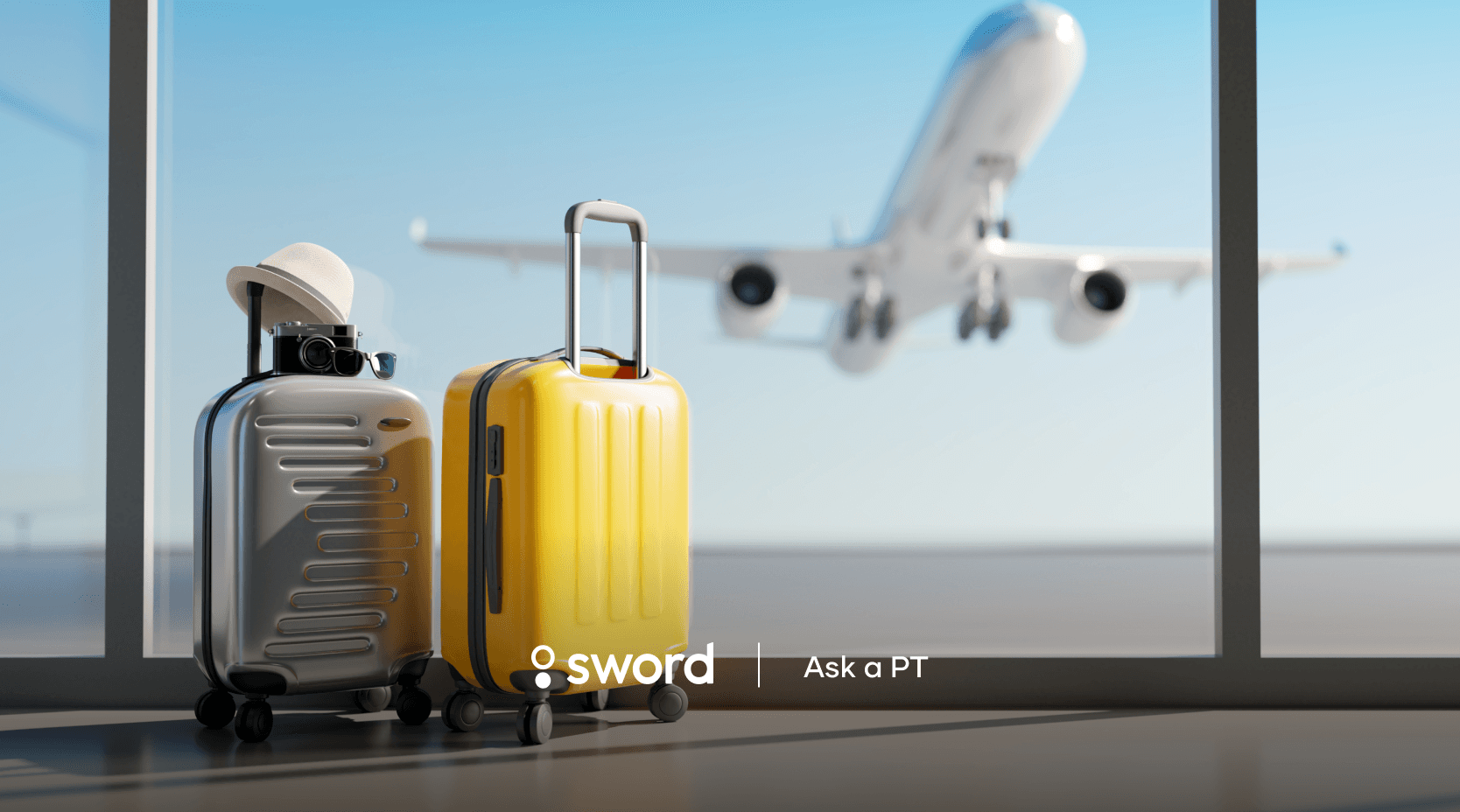 'Tis the season... for a million reasons not to stick with your exercise program! Let's face it: the holidays aren't always relaxing, especially when you're in pain. With family, work and travel responsibilities all competing for a share of your time and attention, it can feel really hard to fit your Sword sessions in. Ironically, it's also the time when sticking to your program is the most important, especially this year when staying healthy matters more than ever.
As we head into the holidays, I've answered the most common questions and concerns I typically hear at this time of year so I can help you set yourself up for success. The best gift you can give yourself and your loved ones this holiday season is improved health!
Reason 1: The kids have so many things going on. I have to prioritize their stuff.
The first thing to know is you're not alone - this is a common struggle I hear from parents in pain. The truth is, you're better able to focus on being a good parent (or child, partner, friend, or employee!) when you're not in pain.
Pain is distracting, exhausting, and stressful, and being in pain makes it harder to focus, be patient and solve problems. Spending a little time on pain relief can have a big impact on your life, especially during the holidays. As SWORD member Jackie says, "Sometimes we don't realize how much pain we're in until the pain is gone." Remember what you're told on an airplane: in the event of an emergency, put on your oxygen mask before helping those around you.
Pro tip: With the kids at home, why not involve them? Depending on how old they are, they might want to exercise along with you, sit back and count the stars for you, or be your cheerleader. Side benefit: it's very motivating for kids to see their parents make a commitment to their health.
Reason 2: We don't see each other often, so my family feels like I should be spending time with them, not off doing exercise by myself.
Feeling guilty about taking time for yourself is hard enough without added pressure from family members. If your family is pushing back on your commitments to your health, remember that often this stems from a lack of understanding. Many of my members who have faced this challenge have overcome it with an honest conversation.
Start by sharing the challenges and struggles you've faced because of your pain or musculoskeletal condition. Tell them about the things you've achieved by sticking to your program. How do you feel? Why is this important to you? What are your goals?
Then, ask for their input on when it would work best for you to fit in your sessions. Perhaps someone values the opportunity to cook dinners with you and worries that you will skip that ritual. Once you hear their concerns, it will be easier to come up with a plan to fit both your sessions and your family time in.
Sometimes this push back is actually about the other person. They also may be struggling with pain and feel like they don't have hope or know where to start. Sharing your experience may help them see that they, too, have options.
There's a chance they still may not understand. If that's the case, hold your ground. Tell them that you hope they can be supportive of you and that you're going to be spending 30 minutes a day doing something that is important to you. Do your program at a time that's not disruptive to the schedule of the household, and they'll likely see that it's not a big deal.
Reason 3: I'm going to be staying in a hotel or with family, so I won't have my normal equipment (or much space).
This is an easy one! Just tell your PT, and they'll be able to modify your program to account for any restrictions you may have. The great thing about SWORD is that you can pack your digital therapist easily in your suitcase and your PT can make adjustments to your program if you arrive at your destination and realize you have a different setup than you expected. If you're going to be on the road this holiday season, I hope you travel safely and take precautions.
Reason 4: It's too crazy this time of year - it'll be my New Year's resolution to get back on track.
When my members ask "when is the perfect time to start working toward my goals?" I always have the same answer: today. There is nothing magical or special about January 1st - you're no more likely to stick to a program and get the results you want because you start on that day. Research from athlete tracking company Strava shows that the majority of people give up on their fitness resolutions by January 19 - they even dubbed it 'Quitter's Day.'
Thankfully, you're much less likely to quit your Sword program than a self-motivated fitness plan, thanks to the inbuilt accountability from your physical and digital therapists. But waiting until January to start or resume your program means you'll miss out on the benefits in the meantime. Count how many days there are between today and January 1. If you start making changes today, imagine how different you could feel in 20, 30, or 40 days. Many of my Sword members report feeling better in a couple of weeks - why wait to feel better? Your trusty PT will be by your side to turn your November or December resolution into a solid, healthy habit.
Ok, I'm sold! I'm going to stick with my program. What are some specific strategies I can use?
Schedule smart. Choose a time of day when there isn't a lot going on around you. Do people tend to sleep in, do work or read the paper in the morning? Do they tend to take naps in the afternoon? If you plan to do your exercises while a rousing game is being played or your uncle is telling a hilarious story about cutting down a tree full of squirrels, you're either going to feel like you're missing out or you're going to skip your session. Pick a quieter time instead.
Plan ahead. Schedule your sessions on your calendar and let others know when they are. Typically, the earlier in the day you schedule the less likely other things will come up. Telling those around you creates the understanding that you'll be unavailable at that time, which manages expectations and helps others plan.
Make movement a family affair. Can everyone take 20 minutes to do some sort of movement? Suggest your loved ones do their own PT routine, go for a walk, or turn on a yoga video while you do your session.
Involve your PT. Tell your PT about equipment or space constraints, and they'll modify your program so you can do it with what you have.
Still in doubt? No matter what your concerns, your PT can help you develop personalized strategies for sticking with your program this time of year. We're here for you every step of the way!
Wishing you happy, healthy holidays, Megan
About the author: Megan Hill, PT, DPT
Megan Hill, Doctor of Physical Therapy, is a licensed physical therapist focused on musculoskeletal rehab and chronic pain management. She dropped her plans to go to law school for physical therapy after a knee injury from the Chicago Marathon left her in need of rehab, and she hasn't looked back since. She's on a mission to empower people to manage their health through exercise, education and coaching, rather than relying on passive approaches.
Megan earned a Doctor of Physical Therapy degree from the University of Illinois at Chicago (UIC). She also holds a Bachelor of Arts degree in psychology from Duke University and is a certified running coach.
Megan lives in Denver, Colorado, where she spends every spare second running, biking, hiking, sailing and stand up paddleboarding with her husband, Layton, and dog, Ollie.
SHARE THIS ARTICLE
Get the latest news from Sword