Food for Thought: 3 Ways to Promote Health Equity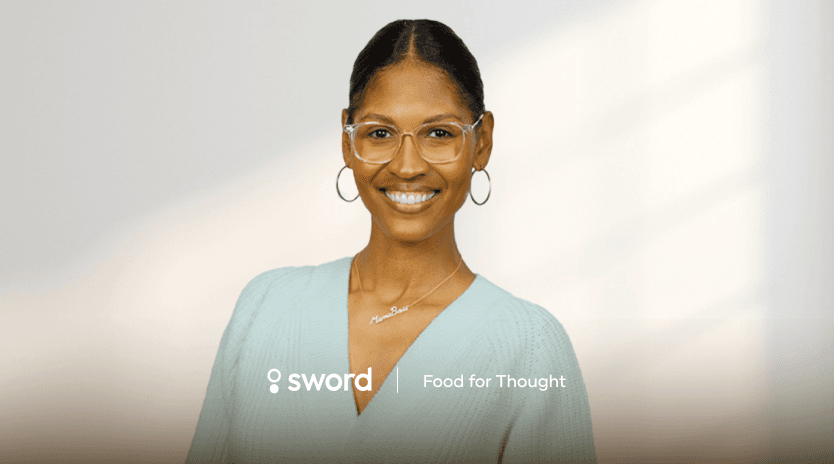 With Ashley Bass
"Food for Thought" is a content series highlighting Sword Health's thought leaders. In it, we tackle a range of topics—from AI and health tech, to health equity, to clinical trials—by asking our resident experts to weigh in on the latest issues facing their fields.
This month, we're sharing Ashley Bass' thoughts on three important topics related to health equity that deserve the attention of every company and individual in the healthcare space. Ashley Bass, PT, DPT is the Health Equity and Inclusion Specialist at Sword Health. In this role, she is responsible for increasing the accessibility of our services as we work toward our mission of freeing 2 billion people from pain. In addition to her clinical background, Ashley also holds an executive leadership position on Sword's Equity Council, an internal employee group designed to integrate diversity, equity, and inclusion principles into every aspect of the Sword ecosystem.
Keep reading to discover three things healthcare leaders can focus on to improve health equity, according to Ashley:
1. Foster Diverse Care Teams
It is well documented that patient outcomes improve when the care provider aligns with the care recipient's identity. But the question remains: How can healthcare companies create diverse care teams if the demographic makeup of the workforce does not reflect that of the patient population?
I was one of only a few minority-identifying individuals in my physical therapy (PT) class, which is reflective of a larger reality in the PT field: According to the American Physical Therapy Association's 2020 workforce data, only 2.5% of the current PT workforce identifies as Black—far lower than the ~12% of the U.S. population that identifies as Black. The data bears out a similar reality when it comes to those identifying as Hispanic, Asian, and American Indian.
How do we overcome these staggering gaps to foster diverse care teams that reflect the population at large? Emmanuel B. John, PT, DPT, PhD, MBA, MPH, FAHA, FIMC recently conducted a lecture in which he discussed the lack of diversity and representation in the PT field specifically. In it, he discussed how critical it is to invest in students and pre-professionals from minority backgrounds at every juncture of their career. This can take many forms, such as exposing students from historically underrepresented groups to the PT profession early on in their scholastic career, and providing mentorship and sponsorship to them throughout their professional journey.
We must all pitch in and take a proactive stance when it comes to fostering the development of all budding healthcare professionals (not just PTs) from underrepresented groups.
2. Continually Improve SOGI Data Collection
In order to promote health equity research for sexual and gender minority (SGM) individuals, electronic health records (EHR) systems must be able to collect accurate and complete sexual orientation and gender identity (SOGI) data on all patients. However, SOGI data collection practices are far from standardized, and the questions asked on medical forms frequently fail to acknowledge the diverse ways in which SGM individuals can identify. Questions such as "What are your preferred pronouns?" only scratch the surface. In a recent study of EHR data, 68% of records lacked sexual orientation data, and 63% lacked gender identity information.
As stated in this article, the limitations in collecting SOGI data continue to widen gaps in providing equitable care and care specific to SGM individuals. The sensitive nature of this data makes it a delicate topic to address in our healthcare practices. But avoiding these questions for fear of offending a person does not move the needle, and studies have repeatedly shown that patients support questions surrounding SOGI.
The solution can not be to set it and forget it—in other words, updating our data collection with more inclusive questions one time isn't enough. Instead, we must continually evolve these processes, just as the fluid nature of personal identity continues to evolve. This includes updating the design of our electronic data collection tools to include "check all that apply" options for self-identification and creating two-step verification questions that affirm and recognize SGM individuals.
This must be the shared responsibility of all healthcare providers and healthcare workers.
3. Empower Patients Through Personalized Care
The fact that more and more healthcare companies are putting systems in place to address health inequity is undoubtedly a step in the right direction. But when those systems lack the personalization that is needed in order to build sustainable care pathways, are they actually contributing to the problem as opposed to solving it?
In other words, the creation of a system designed to meet an unmet social need must take into account all the barriers a person could face as they try to access that system. These barriers could be relatively straightforward to fix—such as a lack of transportation—or they could be far more deeply ingrained and nuanced—such as racism. There is no amount of resources or vouchers that can solve systemic and historical problems like that.
But one way we can attempt to tackle critical care gaps is through transference of power to the patient. As mentioned in this article, transferring power to a patient can look like asking them what they think they need in order to better their health and their life. If we can empower our patients to be active participants in their healthcare experience instead of passive bystanders, we can focus on closing critical care gaps with solutions that don't just check a box but truly make an impact.
Health Equity at Sword Health
At Sword Health, health equity is always top of mind. We strive to foster a diverse and sensitive care team and deliver personalized care by:
Allowing members to self-select their dedicated Doctor of Physical Therapy upon enrollment
Providing cultural competency training to our clinicians, as well as training them in motivational interviewing and other trust-building communication styles
Offering language support to our members
Leveraging AI to support our clinicians, meaning they spend less time on menial tasks and more time engaging one-on-one with patients
While it may sound counterintuitive, Digital Physical Therapy (DPT) is equally equipped to deliver personalized musculoskeletal care compared to in-clinic PT. Why? Because not only does our FDA-listed Digital Therapist free up our human therapists' time to be spent interfacing with patients, it also monitors every single rep our members complete at home. The moment an exercise is done incorrectly, the Digital Therapist can detect the mistake using motion sensing technology. This information enables our human therapists to make clinically informed adjustments to members' programs, or perform personalized outreach and education—without the confines of traditional business hours.
DPT also increases the accessibility of musculoskeletal care by meeting members where they are 24/7. Because members can complete sessions anytime, anywhere from the comfort of their homes, there is no need to commute to the clinic, wait in the waiting room, or miss work to access care. Instead of only seeing their PT at a predetermined time each week, our members have the freedom to do their exercises on their own and then reach out to their dedicated PT for support anytime through the Sword app.
Not only does Sword DPT reduce health disparities by making PT more accessible—it is also the only digital musculoskeletal solution clinically proven to be as effective as in-person PT. If you're interested in learning more, request a demo today.
SHARE THIS ARTICLE
Get the latest news from Sword