5 Ways to Stay Active During the Workday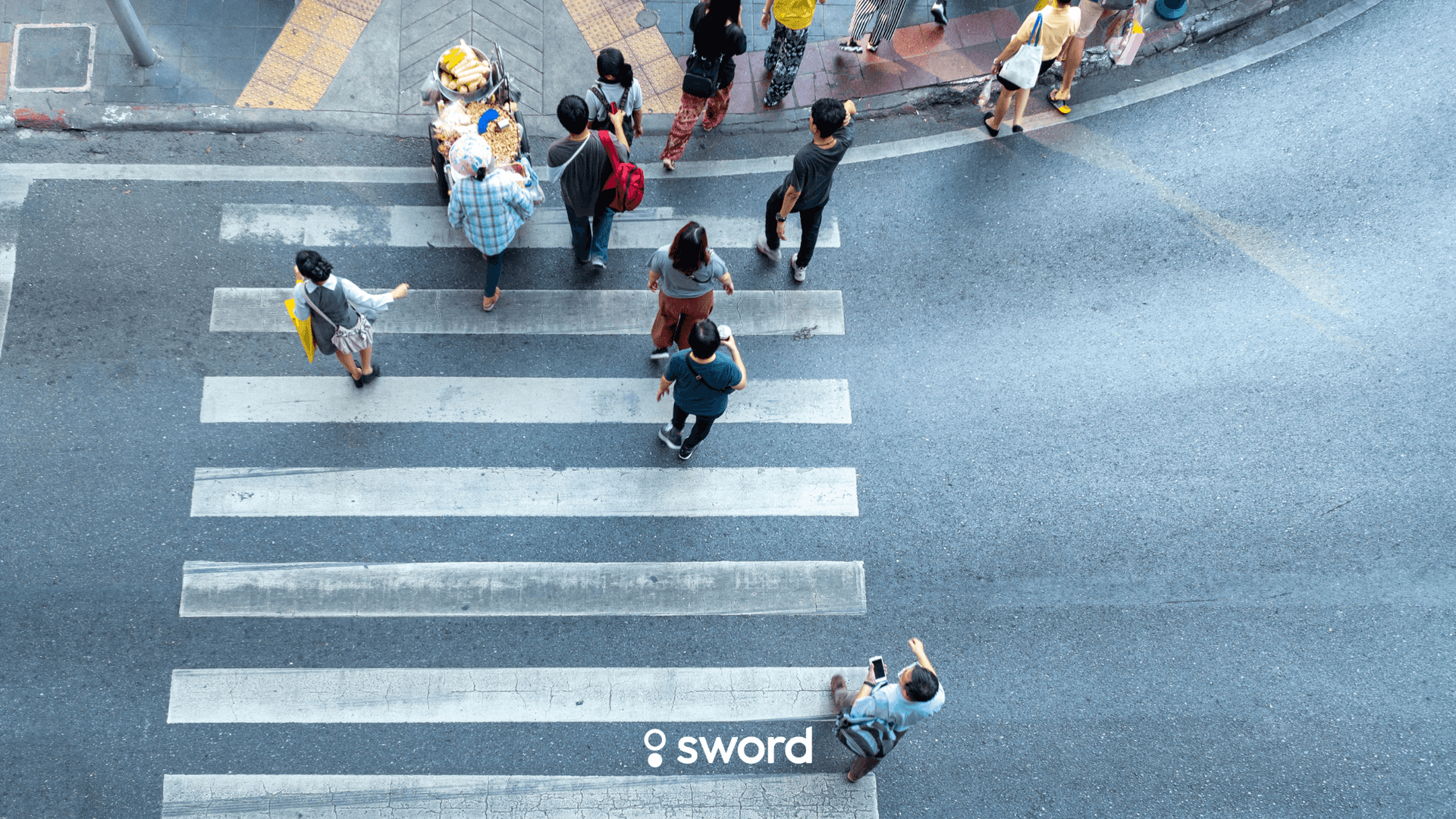 While today's workplace bears a stark contrast to what it was at the start of the decade, it's been evolving for a long time. Today, 6 in 10 Americans work from home, and more continue to move their offices to their living rooms. The pain of desk work is felt by millions globally. Long hours in a chair can take a toll on your back, neck, and other joints — and every facet of your health. In fact, 60% of adults today are not meeting minimum activity requirements, and long days at the desk may be to blame. As a result, musculoskeletal (MSK) conditions are rising.
Most reports claim that 50% of American adults suffer from MSK issues. However, Sword's research has found that in the wake of the pandemic, the number may be higher. In a study examining 1,040 working Americans, almost 80% were suffering MSK pain, with 79.2% reporting pain in more than two areas of their body.
For those confined to a desk, it's critical to make time for movement. Here are 5 ways you can break up your workday to improve your odds against MSK pain.
Add a commute to your day
The home office is convenient, but what if a commute could protect you against pain? Sword has found that the biggest gaps in pain prevalence are between those working from home only some days (26.1%) and those working from home either every day (34.7%) or not at all (38.4%), suggesting that those who vary their work environment by commuting into a workplace (even 1-2 times a week) are less likely to be in pain. Whether that's an office space, a library, or a local coffee shop, creating a second workspace for yourself can improve your health.
Support your tech neck with exercises from your desk
Today, we spend more time looking down at our phones and computers than looking up and out, putting nearly 10 pounds of pressure on our neck. Holding the same position for long periods, even with fair posture, can cause issues such as headaches and brain fog.
In fact, there's a good chance you're reading this from a laptop, since laptop sales now outnumber desktop sales by two to one. In an office, you might plug your computer into an external monitor, which prompts you to hold your head high. But at home, you're more likely to be looking down at a screen while you sit at a dining table or on your couch. The lack of variety puts a lot of pressure on your neck.
Interrupt your workday with small, static exercises to relieve your tech neck, which can all be done from your desk.
Make walking part of your daily routine
Walking has many well-established benefits, including better heart health, lower BMI, and, unsurprisingly, decreased joint pain. Exercise releases hormones and neurotransmitters that work together to reduce pain and improve your mood, going so far as to reduce anxiety and depression. In fact, while you're moving, you're concentrating on something else: breathing, the sounds, the landscape, and making sure not to trip over the cracks in the sidewalk. Breaking up your workday with a walk is sure to clear your mind and keep you sharp.
Stand up once an hour
Joint stiffness is a precursor to more pressing MSK conditions. Years of desk-sitting and lack of movement almost certainly lead to chronic pain, so it's important to stand and allow your joints some relief.
Take an assessment of your day. How long are you sitting in one spot? How often are you getting up to move around? Commit to taking a break every hour to stand up and sit back down. Enjoy a few steps around your yard, complex, or a nearby park. Or simply go prepare a meal for yourself. Doing so will help relieve acute aches, which can progress into chronic pains when they're not addressed.
Diversify your home office
The luxury of technology is its ability to move with us. Consider taking a call or two as you walk. If you need to be on camera, invest in a standing desk. Studies show how standing desks can improve overall joint pain, and even lead to improved productivity. Periodically replace your desk chair with a yoga ball, which can improve posture and relieve pressure on your back. Adding small, plyometric movements to your strained joints can help you find long term relief.
The more you move, the better you'll feel.
Here at Sword Health, we're on a mission to free 2 billion people from physical pain. We've developed the most effective, most clinical methods to treat acute and chronic pain — but we're also determined to help people avoid pain in the first place. That's why we've invested so heavily in creating compelling, engaging educational materials with the Academy, and why our licensed physical therapists work one-on-one with individuals to help them avoid injury or pain in the future.
Learn more how my colleagues and I are helping individuals — and how businesses, health plans, and labor unions can help their people to live pain-free.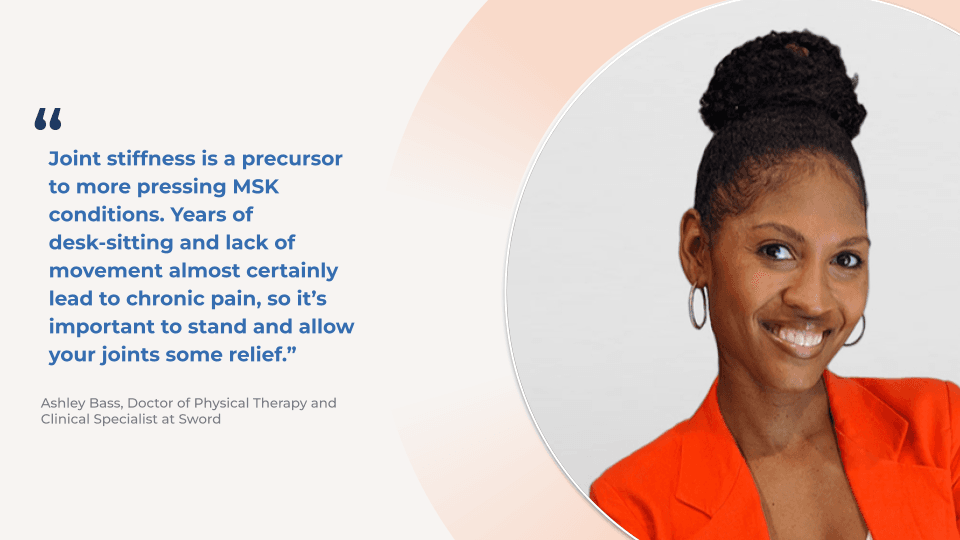 About the author, Ashley Bass, DPT
Ashley Bass earned her doctorate in physical therapy from the University of Maryland, Baltimore School of Medicine in 2014. Prior to that she earned her bachelor's degree from the University of North Carolina at Greensboro where she double majored in performance dance and exercise and sport science.
Ashley is a skilled clinician and has focused her post graduate continuing education training in the areas of orthopedics, temporomandibular and cervical spine management, as well as the treatment of performing artists. Ashley has worked in outpatient orthopedic practices across the east coast and midwest. She dedicates her practice to treating patients of diverse backgrounds. She ventured into clinic management and developed a cross marketing campaign to increase new patient volume and revenue.
Ashley joined Sword Health as a physical therapist in August of 2020 and has since transitioned into a clinical specialist role. With this new platform, Ashley has been able to elevate awareness for the physical therapy profession in the treatment of MSK conditions as well as maintain her goal of providing quality care to individuals to restore their prior level of function and quality of life.
SHARE THIS ARTICLE
Get the latest news from Sword