Sword researchers publish first-ever systematic review evaluating the effectiveness of digital physical therapy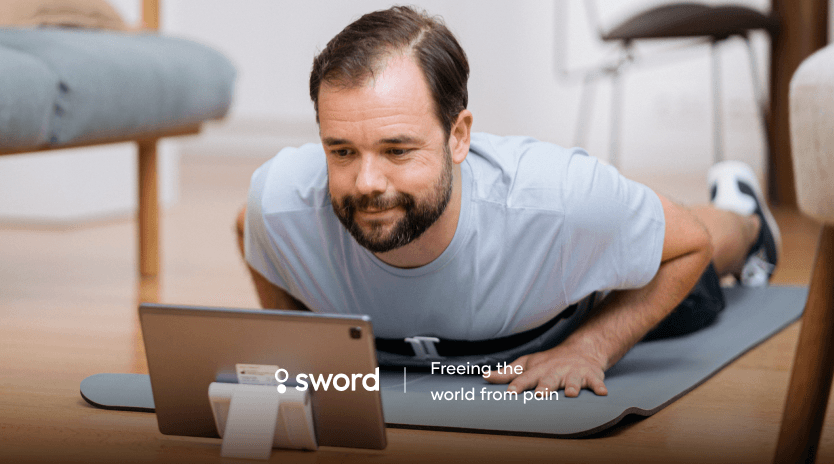 In the first-ever systematic review of its kind, Sword Health researchers showed that asynchronous telerehabilitation with biofeedback (known more broadly as digital physical therapy) is effective in improving pain and function in patients with musculoskeletal (MSK) conditions. Keep reading to learn about the peer-reviewed study, published this June in Digital Health.
Background Exercise-based physical therapy is a clinically and cost-effective treatment for MSK conditions, which are the leading cause of disability worldwide. As such, the use of synchronous telerehabilitation—which is live video conferencing between physical therapy provider and patient—has gained popularity as a more accessible alternative to in-person treatment.
Previous systematic reviews support the effectiveness of synchronous telerehabilitation in patients with MSK conditions. However, this kind of treatment still requires physical therapists (PTs) to meet one-on-one with patients during every session. This poses scalability and scheduling issues, as many patients are unable to consistently attend appointments during regular working hours. Not to mention, there is an ongoing shortage of PTs in the U.S., which can create long waiting lists and additional schedule constraints. Therefore, synchronous telerehabilitation cannot adequately tackle the growing need for physical therapy services.
This is why asynchronous telerehabilitation with biofeedback has emerged as a more scalable solution for the treatment of MSK pain. Asynchronous telerehabilitation with biofeedback refers to digital physical therapy using wearable motion sensors or camera-based sensors to provide biofeedback and patient monitoring. The physical therapy provider does not need to observe the session in real time. This solution allows patients to complete their prescribed exercises on their own schedule, and it allows providers to use biofeedback and adherence metrics to adjust the treatment as needed.
Until now, however, there was no systematic review evaluating the effectiveness of this type of asynchronous treatment.
Methods Sword researchers' systematic review focused on trials published in the last five years to summarize and assess the effectiveness of asynchronous, exercise-based telerehabilitation incorporating biofeedback. In total, 14 papers were included and analyzed. Among them were eight randomized control trials, three non-randomized control trials, and three single-arm studies.
The majority of studies used wearable inertial motion sensors to provide biofeedback during exercise sessions, while four studies used camera-based sensors. All studies included some form of communication system between health professionals and patients, but only six studies allowed patients to reach out as needed.
Results The systematic review showed that asynchronous, exercise-based telerehabilitation incorporating wearable motion sensors is effective in improving pain and function in patients with MSK conditions, yielding at least similar improvements as compared to usual care (including in-person rehabilitation).
The results of this study reinforce the effectiveness of digital solutions such as Sword Health in treating MSK conditions, which is excellent news for patients, providers, and employers. Digital MSK programs allow patients to get the treatment they need from the comfort of their homes, as soon as they need it. In other words, the relative accessibility of digital MSK increases the likelihood of patients receiving timely and proper care, which is a key factor in avoiding unnecessary surgeries and other invasive procedures down the line. Meanwhile, providers can effectively treat more patients in less time. And employers can tackle MSK issues in their workforce using a solution that is just as effective as in-person physical therapy and synchronous telerehabilitation, but less costly and much more convenient.
Want to learn how Sword Health can help free your people from pain and reduce your organization's medical spend? Request a demo.
SHARE THIS ARTICLE
Get the latest news from Sword