Explained: The impact of wrist conditions on the workforce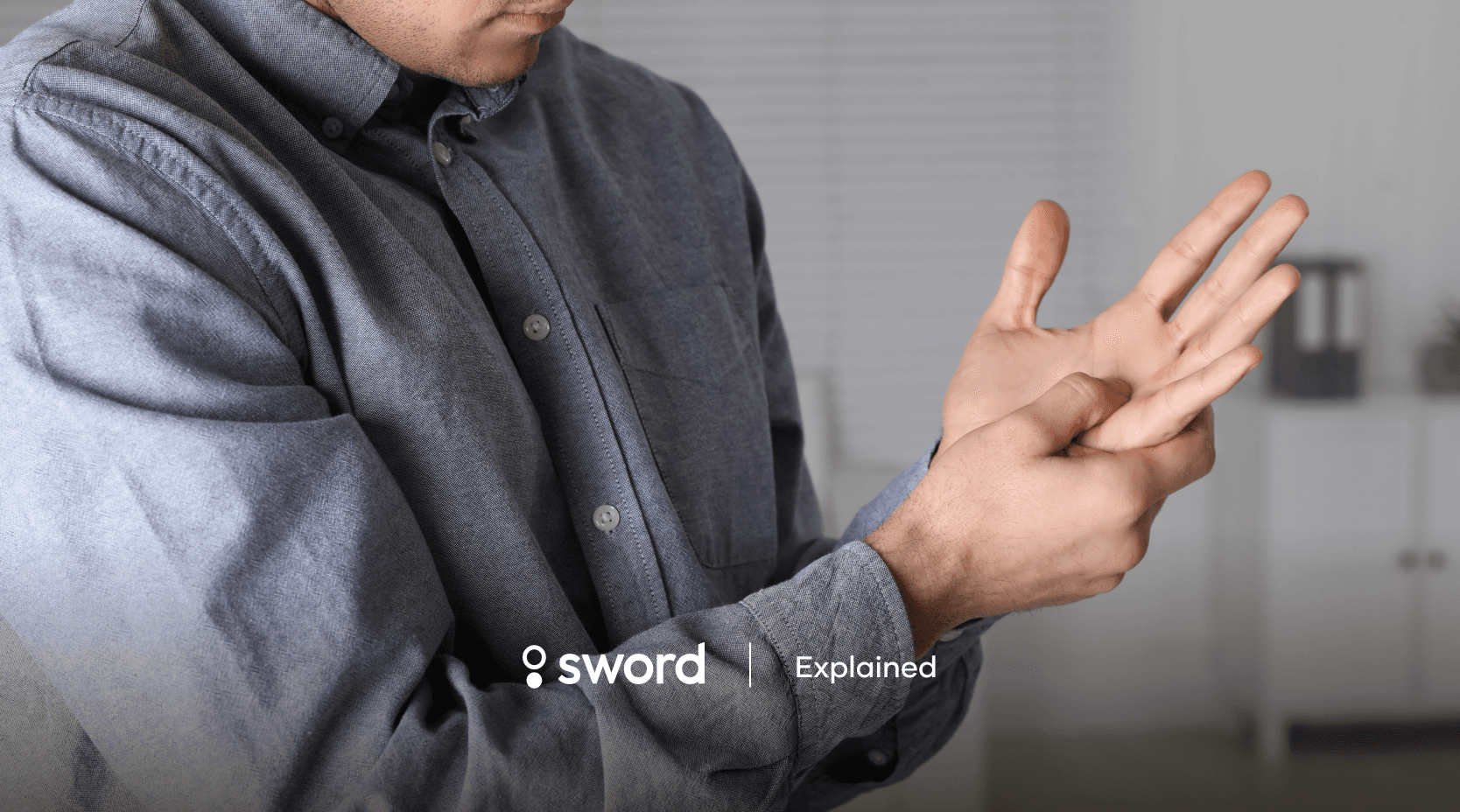 Resham awoke one crisp fall morning with a familiar sensation in her hand: a tingle that ran up from her right wrist to her fingers, a sign that her carpal tunnel syndrome was flaring up. She'd soon be in searing pain that would render her right hand virtually immobile and make her workday excruciating.
She knew she had to act fast to stop the pain from progressing. She called in her team of practitioners - an occupational therapist, an osteopath, a massage therapist and a physical therapist. It took a week for her to get an appointment with the osteopath and almost two weeks to get a PT appointment, and both required prescriptions from her primary care physician. By the time she was done with her army of clinicians, she was over $500 out of pocket, with a wrist brace and an exercise program to follow, and she had a long journey ahead before her hands were back in action again.
Carpal Tunnel Syndrome: a productivity killer
Resham's story is common. According to the Bureau of Statistics and the Occupational Safety & Health Administration, there are over 900,000 new cases of Carpal Tunnel Syndrome (CTS) reported per year, and it affects up to 25% of the workforce. It's part of a family of musculoskeletal conditions called 'work-related musculoskeletal disorders' (WMSDs) - that includes sprains, strains, and tears that result from strenuous repetitive motions in the workplace.
In 2018, there were 2.8 million nonfatal workplace injuries and illnesses reported by private industry employers, with almost 1 million of those resulting in days away from work. Conditions of the hands and wrists are associated with longer absences from work than those affecting other parts of the body. CPS is one of the most common upper limb conditions, and the most expensive. Costs for treating CPS exceed $2 billion per year, mostly driven by surgeries - about 230,000 of them are performed every year. The impact of CTS on workplace productivity is substantial - people with work-related CTS report a median lost work time of 25 days.
Who's at risk for Carpal Tunnel Syndrome?
CTS is caused by compression of the median nerve as it travels through the carpal tunnel on the wrist. Patients with the condition feel pain and paresthesia (a burning or prickling feeling) anywhere along the median nerve, which includes the thumb, index and middle fingers, and half of the ring finger.
CTS is caused by repetitive and forceful hand movements, and made worse by awkward wrist and forearm postures, cold temperatures and vibration. As with all musculoskeletal conditions, workplace stress plays a role, as do physical and mental stressors outside the workplace. CTS affects women more than men, especially those who work in the service industries and who are under stress at work.
While it affects a broad swath of the workforce, from hairdressers to welders to cashiers to journalists, the incidence is higher in the manufacturing, textile and livestock industries. Service and office workers are also at high risk for these conditions. Computer users who use their mouse heavily (more than 20 hours per week) are also at increased risk, and increasing hours of computer work or beginning a new job with high computer use demands also increase the risk.
How Sword Health can help
There is evidence that physical therapy can be effective for wrist conditions, including CTS. Sword's wrist program combines therapeutic neural and tendon gliding exercises with education and behavioral coaching, all administered by our licensed Doctors of Physical Therapy.
The exercises in the Sword program reduce pressure on the nerve, increase circulation, and "floss" a tacky or immobile nerve. In some cases, exercises may be coupled with bracing and activity changes to reduce extreme wrist positions and repetitive activities. Behavioral support tools including our CBT program Strong Mind, Stronger Body may be used to mitigate psychosocial and behavioral risk factors.
By addressing the physical and mental causes of wrist pain, Sword's wrist therapy program can reduce the need for surgery and improve productivity by relieving pain and improving function.
Our physical therapists are also here to help advise you on the risk factors, tissue effects, and behavioral indicators of wrist conditions, so that your people can better prevent and manage these conditions.
To find out more about how Sword can help you tackle this problem and improve productivity in your workplace, contact us today.
About the author: Dr. Fernando Correia, M.D.
Dr. Fernando Correia is the Chief Medical Officer at SWORD Health, where he leads clinical validation and medical affairs. He is a physician with a specialty in Neurology, and also holds an Executive Masters degree in Healthcare Management.
He co-founded Sword with the firm belief that technology can lead healthcare into a new era, one where high-quality, evidence-based medicine is available to everyone, not just a select few. He also believes that a more humanistic approach to healthcare is needed, and that technology and the human touch can go hand in hand and make each other better.
Fernando received his M.D. from the University of Coimbra and his Executive Masters from Católica Porto Business School. He trained in Portugal and in the UK (National Hospital for Neurology and Neurosurgery and Great Ormond Street Hospital for Children). He lives in Porto, Portugal with his family, where he enjoys playing tennis, reading all kinds of books and savoring a good glass of wine.
SHARE THIS ARTICLE
Get the latest news from Sword