Promoting Regular Physical Movement: A Vital Component of Workplace Safety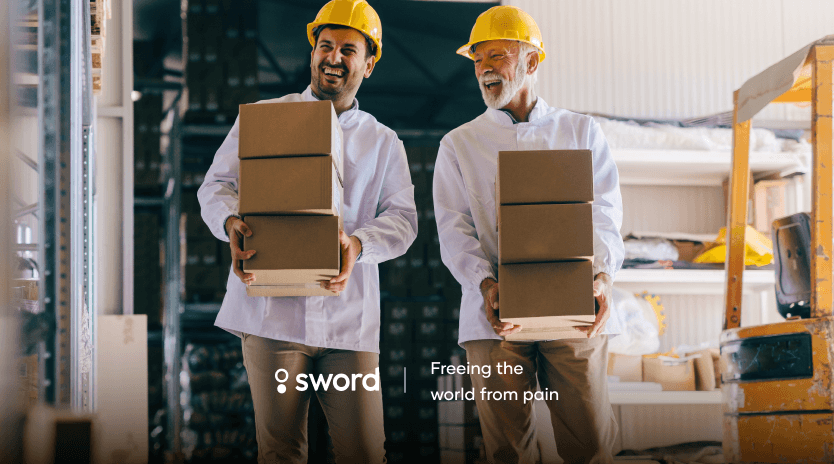 The Basics (and the Benefits) of Workplace Safety Programs
Employers are required by law to foster a safe and healthful workplace that is free from serious hazards. But the savvy ones know that continually optimizing workplace safety is about more than following the law—it's highly beneficial to the organization's bottom line. The more effectively employers can protect their team from workplace injuries and illness, the more they stand to save on healthcare, workers' compensation premiums, and fines for safety violations. According to Gallup, 75% of medical costs are accrued due to preventable conditions.
Not to mention, well-executed workplace safety programs increase systematic efficiencies by streamlining safety protocols, and they result in a healthier—and therefore more engaged and productive—workforce. According to the Centers for Disease Control and Prevention (CDC), healthy employees are more productive at work both because they are less likely to miss workdays and because they are less prone to presenteeism (working suboptimally while ill or injured). There is also the intangible benefit of improved camaraderie and workplace culture when all members of an organization know their health is a top priority and they feel mutually responsible for ensuring their own safety and that of others.
Frequently discussed aspects of workplace safety include:
Workplace ergonomics
First aid
COVID-19 safety
Stress management
Prevention of slips, trips, and falls
There are also countless industry-specific workplace safety topics that require extensive attention in some workplaces but are irrelevant in others—fire safety, electrical safety, road safety, and the proper use of Personal Protective Equipment (PPE), to name a few. In addition to designing and outfitting the work environment with all relevant safety topics in mind, employers must hold regular training sessions to ensure that employees are aware of all risks and well-equipped to avoid them.
Regular Physical Movement: An Overlooked Workplace Safety Strategy On most lists outlining workplace safety topics, you won't likely find "regular physical movement." It differs from other workplace safety strategies, in that it often takes place outside of working hours instead of on the job. Even so, promoting consistent physical activity among employees is a foundational element of workplace safety across all industries. Why? Because exercising regularly helps those with inactive jobs counteract the negative effects of a sedentary lifestyle; and it helps those with active jobs strengthen their muscles and learn proper movement mechanics, both of which are essential for injury prevention on the job.
Sedentary workers who don't exercise are at increased risk of developing a host of life-threatening chronic conditions, such as obesity, heart disease, cancer, and type 2 diabetes. However, according to the CDC, even short periods of physical activity help to prevent these conditions, while also reducing feelings of anxiety and improving sleep quality, cognitive ability, and bone and musculoskeletal (MSK) health. A recent study showed that five minutes of light walking every half hour—even as light as 1.9 mph, which is slower than a 30-minute mile pace—can reduce the risks associated with prolonged sitting. And even as little as one minute of walking every hour has been shown to reduce blood pressure compared to no walking at all.
On the flip side, jobs that require workers to do physical activities such as lifting heavy objects or operating machinery all day come with their own set of risks. According to the National Safety Council, "overexertion and bodily reaction"—a category that includes injuries from lifting, pulling, carrying, bending, reaching, twisting, repetitive motions, and other physical activities—accounts for 22% of all nonfatal injury or illness causing missed work. As it turns out, two of the best ways to prevent such injuries are strengthening the muscles and learning proper biomechanics, or movement technique. The good news? Both of these can be achieved through an expert-led strength training program. According to the Mayo Clinic, strength training increases lean muscle mass—which, in turn, can increase bone density, protect joints from injury, and contribute to better balance.
In other words, regular physical movement tailored to a person's lifestyle, goals, and health history is essential to the workplace safety of employees in both sedentary and active roles. Those who sit all day need to get moving, and those who move all day need to learn safe movement patterns and get strong to prevent injury.
Promoting Regular Physical Movement with Sword Move Studies show that 60% of U.S. adults are dealing with either acute or chronic pain. Meanwhile, 25% to 35% of American adults are inactive and therefore at risk for developing MSK pain and the many other conditions listed above.
When you consider that such a high percentage of your employee population is either in pain or at risk for pain, the importance of promoting regular physical movement to prevent pain becomes clear. As an employer, one of the best things you can do to demonstrate your commitment to employee health and well-being is give your people the resources to move correctly, frequently, and in ways that are appropriate for their life stage. Not only does doing so enhance your workplace safety program, but it can also be life-changing and, in some cases, life-saving for your employees.
That's why we created Sword Move — the only exercise solution designed for the workplace that connects members with a certified personal trainer who uses real-time insights collected from an integrated wearable device (Move Wearable) to deliver an exercise program that is personalized to members' occupational demands, pain history, and more. Move is designed to get members moving and keep them moving—while simultaneously addressing risks with balance, mobility, and strength, as well as treating and preventing MSK pain and over 20 chronic conditions. Through ongoing physical assessments, Move's expert trainers can evaluate different aspects of a member's movement capabilities and adjust their activities and step goals accordingly to provide a truly personalized, motivating experience.
Move programming can be conveniently done anytime, anywhere—so members can incorporate physical movement into their lives at home, no matter their work schedule. Employers can offer Move to increase activity levels among sedentary workers and increase strength and bodily awareness among those with physically demanding jobs, helping both populations to live pain-free. While one member may be working with their designated personal trainer to incorporate walks into their workday, another may be working with their trainer to improve deadlift strength in preparation for lifting heavy boxes at work.
If you are an employer looking to take your workplace safety program to the next level with Move, request a demo.
SHARE THIS ARTICLE
Get the latest news from Sword