Sword Health Publishes Clinical Study that Demonstrates Superior Patient Outcomes for Those with Acute Low Back Pain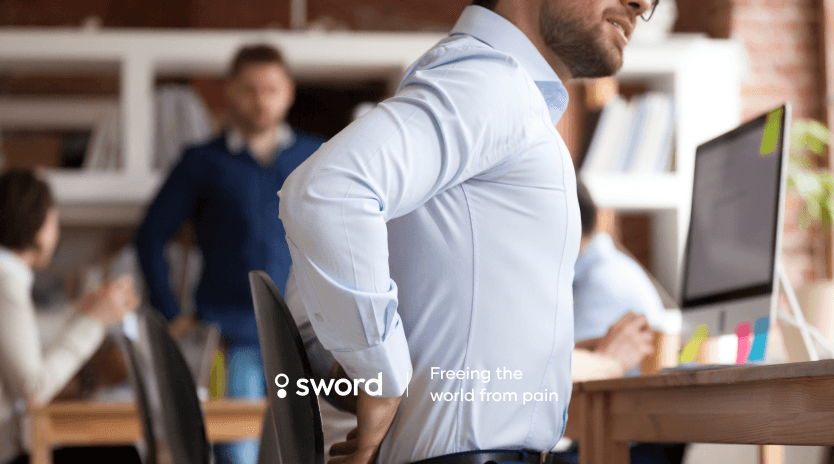 Today we release clinical study results that show significant improvement in health-related outcomes for patients with acute low back pain, one of the most prevalent conditions in the musculoskeletal (MSK) spectrum.
The study, published in the Journal of Pain Research, focuses on clinical outcomes in members going through Sword's care programs for acute low back pain. This is the first real-world study focusing specifically on the impact of integrated multimodal digital care programs for low back pain conditions, which integrate exercise, education on back pain, and tools for mental strength and self-management.
Low back pain (LBP) has a high lifetime prevalence (70-80%) and is the leading cause of absenteeism in the workplace. In up to 65% of patients, acute episodes of LBP are not resolved after 12 months, challenging the notion that spontaneous recovery protects most individuals from long-term LBP. Therefore, preventing progression to chronic pain is a priority. Digital care programs can be the key to addressing limitations in access to care, along with availability of providers, and time and travel constraints.
Clinical Study insights
The clinical study measured 406 patients in the Sword program. Substantial improvements were observed in disability (55.1%), pain (61.0%), mental health (55.4%-59.5%), surgery likelihood (59.1%) and productivity (65.6%), which were associated with high engagement and satisfaction levels.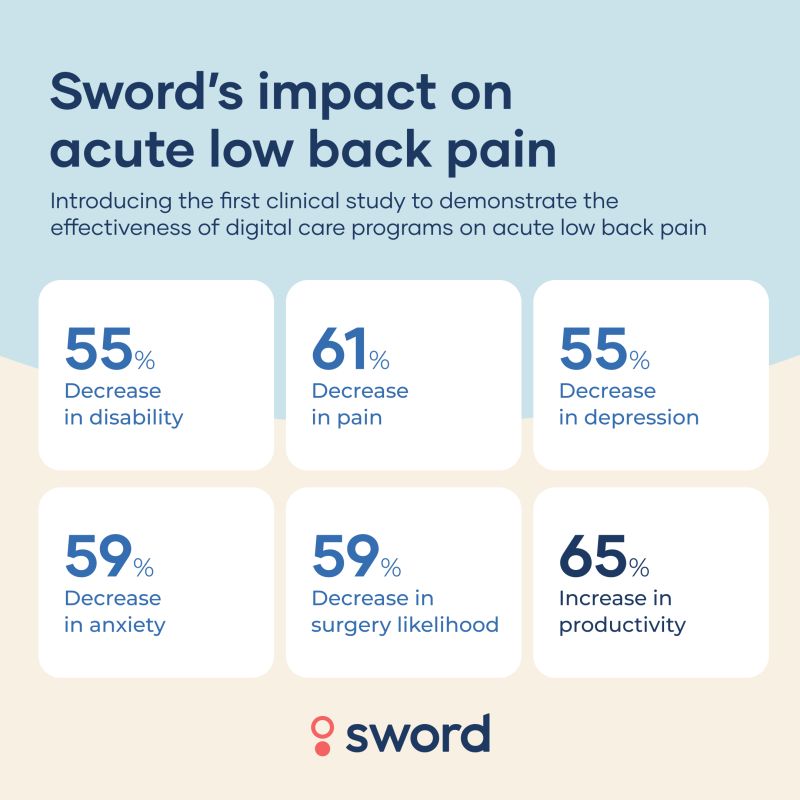 The study also sought to understand if members at higher risk of becoming chronic pain sufferers were more or less likely to respond to treatment. Members were divided into 3 categories based on their baseline pain levels (0-3; 4-6; 7-10). Importantly, the study showed that individuals at higher risk of chronic pain (with higher initial pain) were not less likely to respond.
This study validates that Sword's digital care programs for acute LBP are effective in tackling this problem, even for those at risk of becoming chronic sufferers, highlighting the importance of multimodal care managed by physical therapists.
With this study, we reinforce the evidence around our digital programs for acute MSK conditions. Another clinical study by Sword, published in BMC Musculoskeletal Disorders in January, revealed equally impressive outcomes in patients going through the digital care programs for acute conditions involving several body areas. This study highlights leading adherence and retention rates.
Since Sword's inception in 2015, we have committed to providing the best care possible to people suffering from pain and disability caused by musculoskeletal conditions. We have built the fastest-growing and most clinical-grade care solution in the space, pairing Doctors of Physical Therapy with the best-in-class technology to provide the best outcomes for patients.
Sword has recently announced a strategic collaboration with the American Physical Therapy Association (APTA) to advance research around digital physical therapy and to support Diversity, Equity and Inclusion (DE&I) within the PT profession. Sword is also committed to collaborating on policy initiatives to improve and standardize direct access laws at the state level, with national payers and in federal programs and to improve licensure mobility and portability by improved utilization of the national physical therapy licensure compact.
About Sword Health
Sword Health is the world's fastest growing digital musculoskeletal (MSK) care provider, on a mission to free two billion people from pain. It is the first digital solution to pair its members with a licensed physical therapist and the Digital Therapist, to deliver a clinically-proven, personalized treatment plan that is more effective, easier, and less expensive than the gold standard of care. Sword believes in the power of people to recover at home, without resorting to imaging, surgeries or opioids, and it is the industry's only end-to-end digital MSK solution. Since entering the market in 2020, Sword Health has worked with insurers, health systems, and employers in the U.S., Canada, Europe, and Australia to make high quality musculoskeletal care accessible to everyone.
SHARE THIS ARTICLE
Get the latest news from Sword