Sword Health Launches World's First Platform to Predict, Prevent and Treat Pain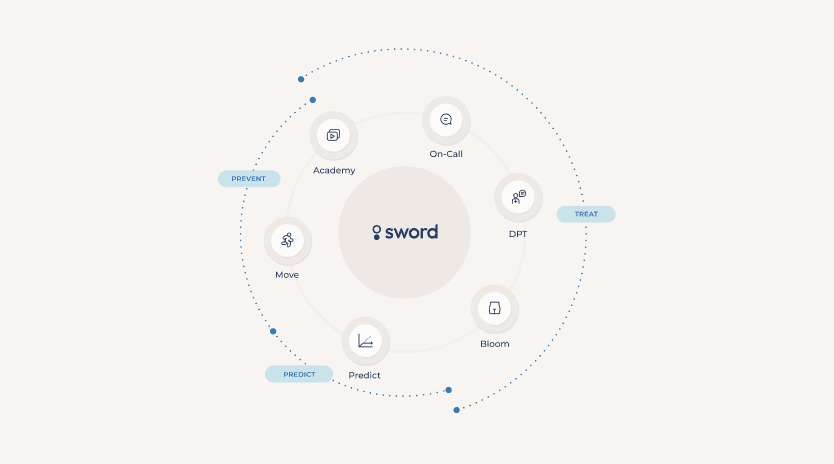 Platform marks major step forward in company's mission to free 2 billion people from pain by providing infinite custom care pathways for each member's unique pain challenges
NEW YORK – May 31, 2023 – Today, Sword Health, the world's fastest growing pain solution, is announcing the launch of its platform to predict, prevent and treat pain. With its products now used by members of more than 2,500 companies across three continents, Sword is turning everything it has learned about making optimal clinical-grade treatments more accessible into a single platform that can help people avoid and treat the pain that afflicts 60% of adults each year according to the CDC.
"The world has been trying to solve pain for the last 2,000 years and after all that time, the best the healthcare industry has to offer is to 'manage it.' They even call the field 'pain management.' But science has shown us that we can do better - that pain can truly be treated as well as prevented so that it doesn't have to be a burden people carry for their whole lives," said Virgilio Bento, Founder and CEO of Sword Health. "Within the 60% of adults who experience significant physical pain each year, there are infinite journeys and unique experiences. To help all of them, it requires an entire platform, and that's what Sword is becoming."
Since its market entry in 2020, Sword has become the industry leader in addressing companies' number one healthcare cost – back, joint, and muscle pain. As the company continued to evolve and innovate, one thing has remained clear – the focus of every product has been to conquer pain so members can live their best life. From first launching Digital Physical Therapy, to the more recent unveilings of Bloom, Move, and Predict – Sword's individual solutions have catered to specific pain-related issues, empowering members to find effective and convenient resolutions. Now, Sword Health is poised to revolutionize the pain care sector once again by unveiling its revolutionary next step that seamlessly integrates solutions into a single platform. By combining Sword's individual solutions into one easy to access and navigate platform – the company's personalized pain solutions are more accessible, powerful, and transformative than ever before.
The Sword Platform has been designed to offer an infinite number of personalized pain solutions, because of how different each person's pain can be. Whether it's chronic pain, acute discomfort, or specific musculoskeletal conditions, Sword's cutting-edge technology allows for personalized treatments that cater to the distinct needs of every member.
The latest version of Sword's mobile app launches today, offering members a seamless entry point to the platform. And in the coming weeks, that will include access to all six of Sword's products:
Throughout the platform, Sword's products combine the highest level clinical experts, including Doctors of Physical Therapy and Certified Personal Trainers, with breakthrough artificial intelligence – ensuring members not only receive the gold standard of care, but can also conveniently access experts from the comfort of their home.
The Sword Platform is available to individuals through their participating employer, union, health plan, or government agency. Once enrolled in Sword, members can access the comprehensive suite of pain management solutions in a single app – free to download via the Apple App Store or Google Play. Business leaders who would like to help free their members from pain can request a Sword Health Platform demo.
About Sword Health Sword Health is on a mission to free two billion people from pain as the world's first and only end-to-end platform to predict, prevent and treat pain. Delivering a 62% reduction in pain and a 60% reduction in surgery intent, Sword is using technology to save millions for its 2,500+ enterprise clients across three continents. Today, Sword holds the majority of industry patents, wins 70% of competitive evaluations, and has raised more than $300 million from top venture firms like Founders Fund, General Catalyst, and Khosla Ventures. Recently recognized as a Forbes Best Startup Employer, Sword has become the fastest-growing pain solution since going to market in 2020. Contact us for a free demo.
SHARE THIS ARTICLE
Get the latest news from Sword