Groundbreaking Study in Nature Digital Medicine Establishes Sword Health's Digital Physical Therapy Program as the New Gold Standard of Care for the 50 Million Americans Who Endure Physical Pain Daily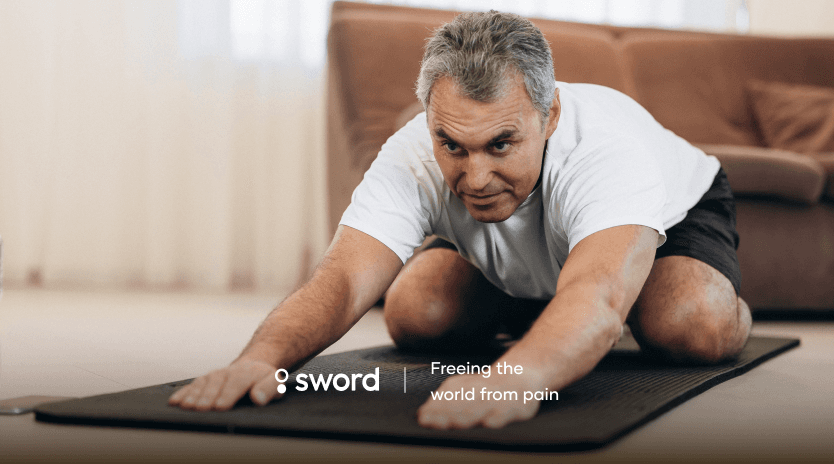 Nature Digital Medicine study shows that Sword's digital program delivers clinical outcomes equivalent to the best in-person care, with 2X improvement on the engagement challenges that plague traditional physical therapy
NEW YORK – July 10, 2023 – Today, Sword Health, the world's first end-to-end platform to predict, prevent and treat pain, is announcing its digital physical therapy program has been proven to be equally effective to the best in-person treatment, while making dramatic improvements in the compliance and engagement rates that have been long-standing challenges of traditional physical therapy. These findings, published in Nature Digital Medicine, are the result of a recently concluded randomized controlled trial conducted in partnership with the Physical and Rehabilitation Medicine Center at Emory University in Atlanta, Georgia. The trial shows the engagement and completion rates for Sword's digital program was more than two times those of best-in-class in-person physical therapy, with equally strong clinical outcomes, establishing Sword's innovative program as the clinical leader in treating chronic pain.
"This study, published in Nature Digital Medicine, unequivocally establishes Sword's Digital Physical Therapy program as the new gold standard of care for the 50 million Americans who endure physical pain daily," said Virgilio Bento, Founder and CEO of Sword Health. "We have not only been able to showcase our ability to deliver clinical outcomes equivalent to traditional physical therapy, but more importantly, we have proven that we can double engagement and compliance levels. This has always been a significant challenge with in-person physical therapy and a key reason why it has not effectively addressed the pain epidemic. This serves as further affirmation of our belief, substantiated by data, that Sword's Digital Physical Therapy program embodies the trifecta of what the future of healthcare should be: high levels of clinical outcomes, maximized engagement and compliance, all while significantly reducing costs within the system."
Sword's Digital Physical Therapy pairs an expert Doctor of Physical Therapy with Sword's AI digital therapist, providing a customized treatment program that's tailored to every member and every condition. Results of the study, which compared the clinical outcomes of patients with chronic low-back pain who underwent Sword's digital intervention to those who underwent high-intensity in-person physical therapy, showed:
Sword had lower dropout rates (15.7% vs. 34.3% in the conventional in-person physical therapy group), suggesting higher acceptance and engagement with remote care, at a significantly lower cost, that will ultimately lead to more people experiencing pain relief
Equally strong improvements in disability, the primary outcome, with no statistically significant differences between the two programs (-.13 effect size)
Similar improvements in secondary outcomes such as pain, anxiety, depression, and overall productivity (-.08 effect size)
Sword Health's Chief Medical Officer, Dr. Vijay Yanamadala, highlighted the significance of the study's results, saying, "While traditional physical therapy has always proven to be effective at treating chronic pain and avoiding unnecessary surgeries, the access and cost challenges have always and will always make it unrealistic for many people to benefit from. With our Digital Physical Therapy program, Sword is delivering the same outcomes while making it easier for patients to engage in their treatment regimen by allowing them to receive the care they need in the convenience of their own homes and on their own time."
With one in 5 people suffering from chronic pain, and new cases of chronic pain outnumbering those of diabetes, depression or high blood pressure, these groundbreaking results support the importance of Sword's digital programs as an important alternative to in-person care. Ultimately, Sword's Digital Physical Therapy program ensures clinical quality treatment while reducing barriers to access and improving patient engagement in the management of musculoskeletal conditions.
The study of 140 participants adhered to rigorous scientific standards, employing a randomized controlled trial design with prospectively registered protocols and adherence to CONSORT guidelines for reporting clinical trials. The methodology included state-of-the-art longitudinal analysis techniques, randomization, and allocation concealment, ensuring robust and reliable results. Unlike previous studies from other companies that employed "treatment as usual" or mixed acuity low-back pain cohorts as control groups, this trial directly compared Sword's fully-remote digital care program with evidence-based in-person physical therapy.
About Sword Health Sword Health is on a mission to free two billion people from pain as the world's first and only end-to-end platform to predict, prevent and treat pain. Delivering a 62% reduction in pain and a 60% reduction in surgery intent, Sword is using technology to save millions for its 2,500+ enterprise clients across three continents. Today, Sword holds the majority of industry patents, wins 70% of competitive evaluations, and has raised more than $300 million from top venture firms like Founders Fund, General Catalyst, and Khosla Ventures. Recently recognized as a Forbes Best Startup Employer, Sword has become the fastest-growing pain solution since going to market in 2020. To learn more, visit www.swordhealth.com.
SHARE THIS ARTICLE
Get the latest news from Sword