How Sword Health Became One of the Fastest-Growing Companies in America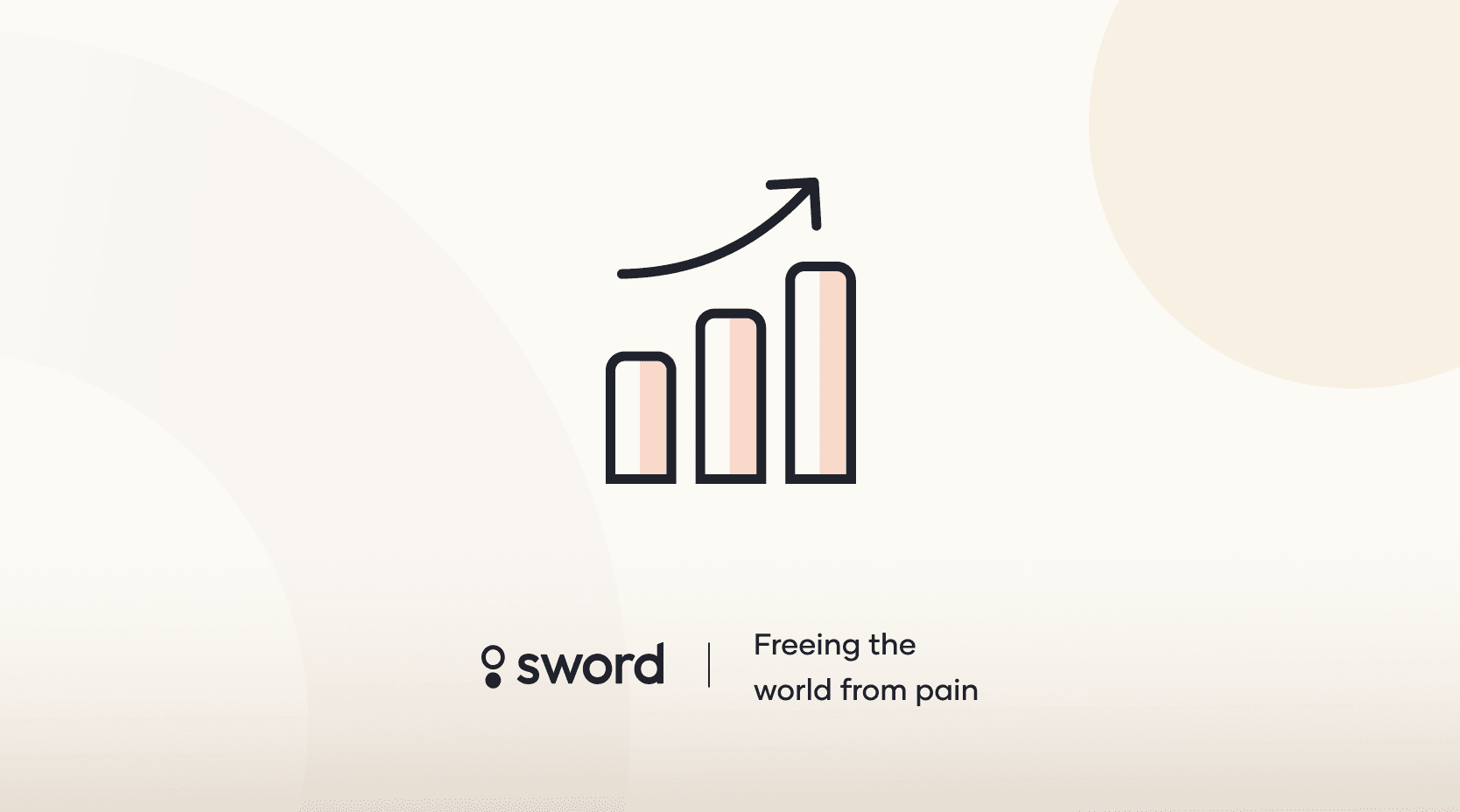 Inc. magazine just ranked Sword Health #26 on its annual Inc. 5000 list, the most prestigious ranking of the fastest-growing private companies in the U.S.
Since launching commercially in 2020, we have been strategically expanding the scope of our business as we work towards our goal of freeing 2 billion people from pain. By reimagining how patients access and receive care for all types of physical pain, we can create a pain-free world—an audacious goal, to be sure. But the pursuit of audacious goals is Sword's ethos. It's what got us here, and what will keep us going—and growing.
Keep reading to learn how Sword Health achieved such rapid growth during our first three years in the market, how we've positively impacted our clients and members, and what our future holds.
Sword Health's Timeline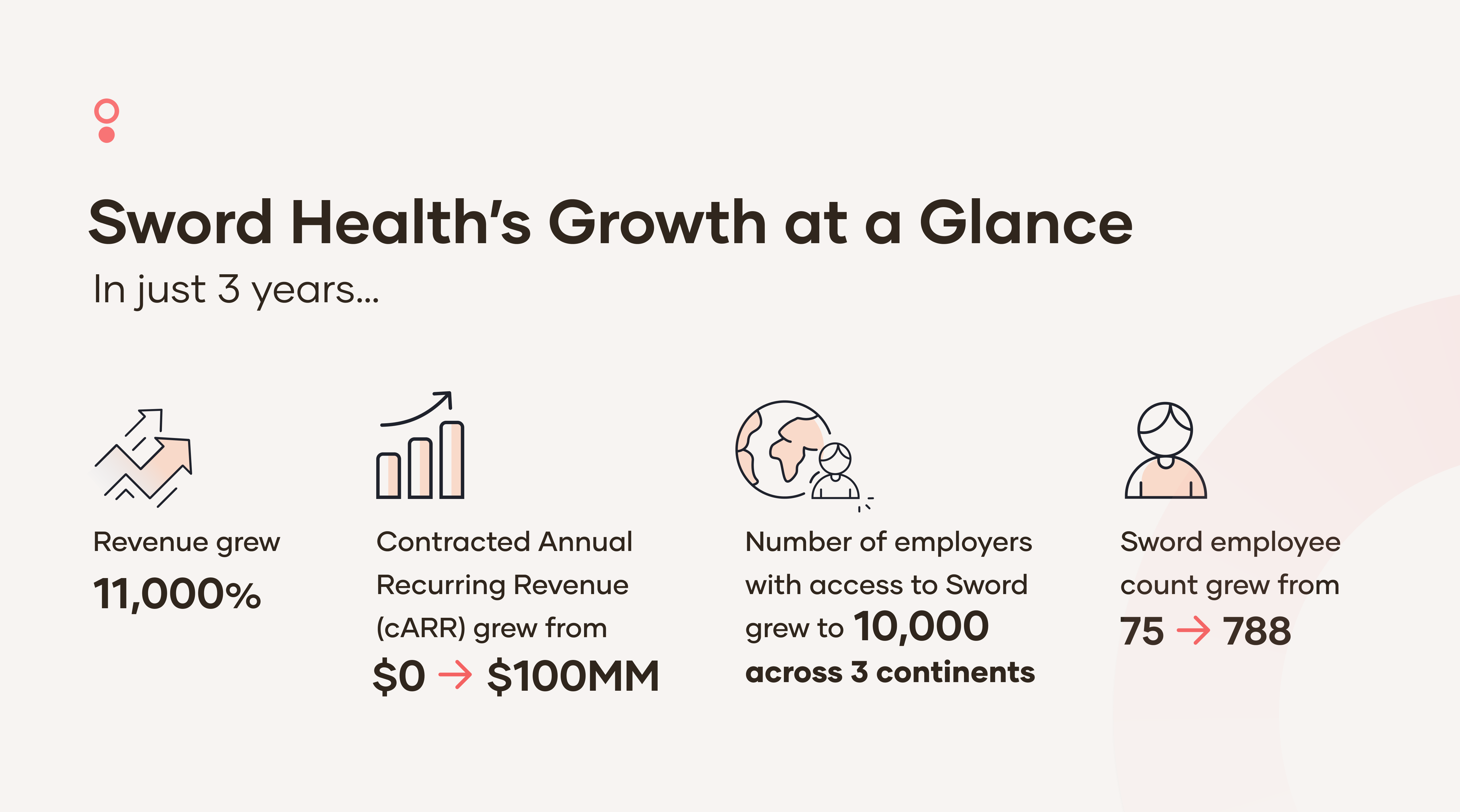 1994-2015: Bringing an "Impossible" Idea to Life
Sword Health's origin story begins in 1994, when CEO and founder Virgílio "V" Bento's 12-year-old brother was hit by a car in their hometown in Portugal, suffering major injuries. V and his family would spend much of the next decade traveling to the best rehabilitation centers in the world to ensure he got the highest-quality physical and occupational therapy—and the best chance at a full recovery. It was during this period that V developed a deep appreciation for what it takes to help a loved one recover, and the desire to make that process easier on patients and their families.
His plan? To develop a totally novel technology that could digitize a patient's physical movements with clinical precision and then provide direction and feedback to the patient, just like a physical therapist would—giving patients the ability to access high-quality, high-intensity physical therapy (PT) at home. To make his idea a reality, he studied engineering in college, and then went on to pursue a PhD in electrical engineering. During his PhD, V and three fellow students—including eventual Sword Health co-founder Marcio Colunas—developed a technology called the Stroke Wearable Operative Rehabilitation Device, or S.W.O.R.D. This early iteration of the technology the company uses today leveraged artificial intelligence (AI) and motion-tracking sensors to help stroke patients recover remotely.
2015-2019: Perfecting the Product
Sword Health was officially founded in Portugal in 2015, but wouldn't go to market for another few years. In stark contrast to our rapid growth over the past three years, Sword Health's first four years as a company were spent in the lab, slowly and meticulously perfecting the technology (now called the Digital Therapist). This extended research and development period served as a critical foundation for Sword's success, as our technology and clinical precision are what make us uniquely effective at freeing people from pain.
During this time, Sword began collecting technology patents (of which we now hold the majority within the digital musculoskeletal care industry) while ensuring the functionality of our proprietary Operating System and the accuracy of our motion sensors—which are 4x more accurate than the human eye, and take more than 5,000 movement samples per second to accurately assess patients' exercise form in real time. In 2016, the Digital Therapist became the first FDA-listed technology of its kind.
These early years were a lean period for Sword, as investors wanted the company to prove it had commercial traction before placing substantial bets on its future. But V and his founding team refused to go to market before the product was ready, as they knew it would be their major differentiator and the key to their eventual success.
2020-Present: Going to Market, Doubling Down on Growth
In April 2019, Sword Health raised an $8 million Series A led by Khosla Ventures. We launched in the U.S. in January 2020, and in February 2020 raised a Series A extension of another $9 million from Khosla Ventures and Founders Fund. We also signed our first U.S. customer, Concordia Plans, in 2020. A benefits provider for over 6,000 Lutheran Church organizations worldwide, Concordia began offering their members Sword's digital PT program.
2021 was big for Sword Health: We raised a $25 million Series B, an $85 million Series C, and a $163 million Series D that year. These funding rounds propelled Sword Health to a $2 billion valuation less than two years after launching commercially. In 2021 we also signed our first Fortune 50 client—validating that our solution offers real value to America's largest employers—and reached 100 total customers worldwide.
Having found our product-market fit, we began doubling down on our mission by strategically expanding the scope of the business. This has involved:
Developing new pain solutions—such as Bloom for the remote treatment of pelvic pain and disorders, and Move to encourage regular exercise and the prevention of pain and injury
Transitioning from a single-product, digital PT solution to a multi-product platform—the world's first and only end-to-end platform to predict, prevent, and treat pain
Using clinically-validated technology to continually push the boundaries of what's perceived as possible in the pain care industry
This period of deliberate, exponential growth has paid off: Sword is now available through more than 10,000 employers across 3 continents. Meanwhile, our revenue has grown 11,000% since going to market in 2020, and our internal team has grown 950%.
Sword Health's Impact
As Sword has grown, so has our impact. We are significantly reducing our clients' healthcare spend while significantly increasing our members' quality of life.
Financial Impact
All too often, pain is "managed" long-term through a combination of costly tests, imaging, injections, surgeries, and medications. All of these approaches tend to mask the problem rather than solve it. In fact, over 50% of surgery for musculoskeletal (MSK) pain is unnecessary and likely could have been avoided through PT. Not to mention, the opioids physicians often prescribe to manage pain after surgery are highly addictive, and their misuse has contributed to the opioid overdose epidemic in the U.S.
By contrast, PT attacks pain at the source and eliminates it for good. By making PT highly accessible and engaging to members, Sword Health helps members complete PT programs that they would be twice as likely to drop out of if they had to do them in-person. Nature Digital Medicine—the world's preeminent peer-reviewed journal on all aspects of digital medicine and health—recently published a groundbreaking paper that clinically proves Sword's digital PT program to be as effective as in-person PT, yet 2x more engaging. This goes to show that Sword is the gold standard of care for anyone seeking a pain-free, surgery-free life.
After completing our digital MSK programs, 64% of members are low-risk for surgery, and 49% of members are off pain-killers. For their employers, that represents millions in savings on costly procedures and medications for pain management.
Human Impact
Our proudest accomplishment over the past three years is the human impact we've had—because the 'why' behind everything we do is freeing real people from real pain. Our members report significantly improved physical and mental health as a result of using Sword.
Since 2020, our members have completed about 21 million minutes of therapy and, with the freedom to complete their sessions anywhere, have avoided about 1.8 million trips to in-person rehab clinics.
After completing Sword programs:
64% of members are freed from pain.
50% of members no longer screen positive for anxiety.
43% of members no longer report productivity impairment.
Sword Health's Future
What does Sword Health's future hold? Continuing to work towards a pain-free world. As much as we've accomplished so far, there is always more work to be done. In order to literally free 2 billion people from pain, we will need to continue the same way we started: by believing in, and attempting, the "impossible."
As V always says, "Still only 5% done…"
SHARE THIS ARTICLE
Get the latest news from Sword