New Study Shows Sword First to Provide an Equitable Solution for Pain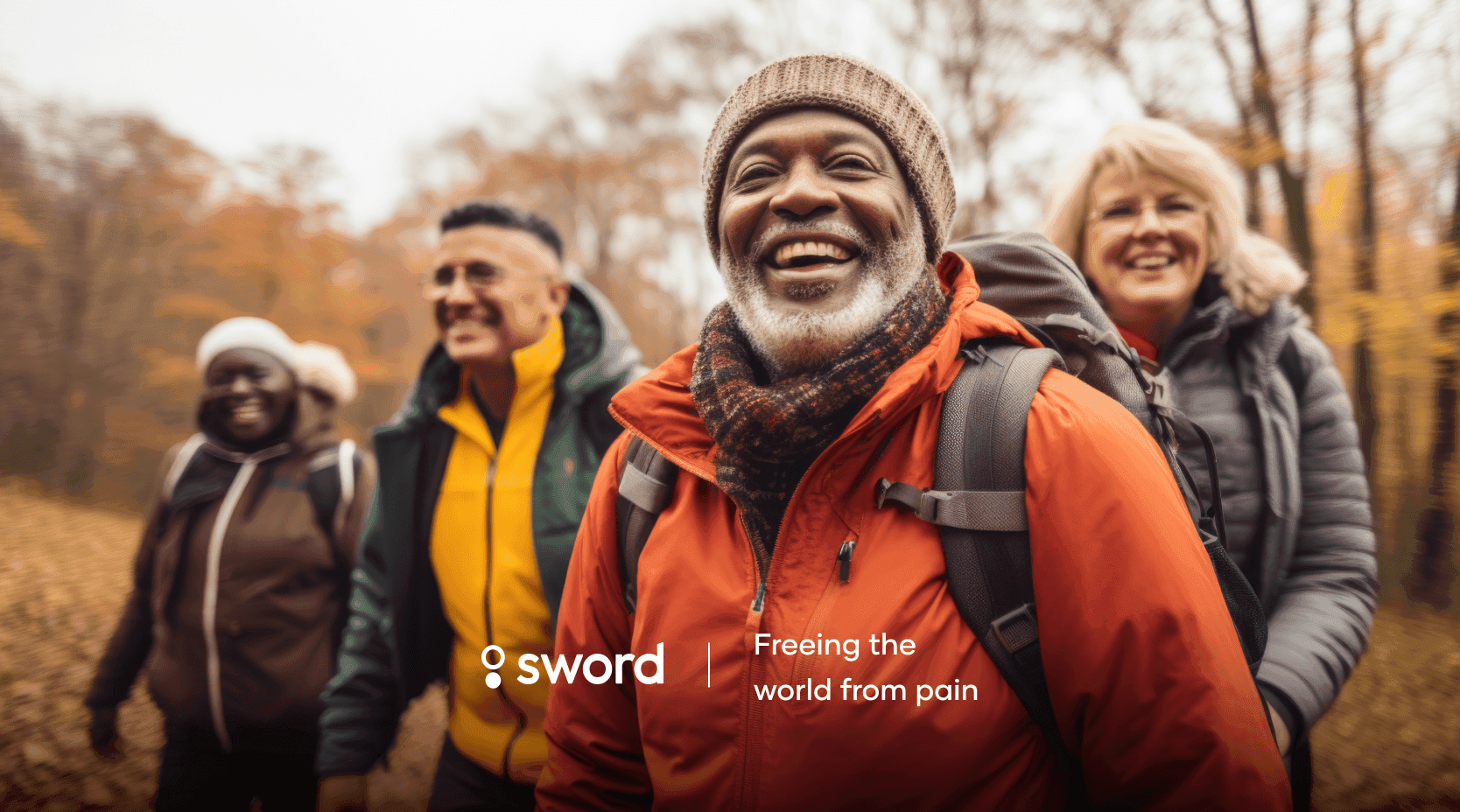 About the Study
Nature Digital Medicine, the world's leading medical journal covering all aspects of digital health, just published the results of a first-of-its-kind study assessing the ability of digital musculoskeletal (MSK) care to provide equitable rehabilitation to patients across various socioeconomic contexts. While it had been previously established that digital interventions reduce certain barriers to accessing MSK care, such as geographical and time constraints, this study was the first to explore whether digital MSK care can overcome other social determinants of health—such as education, economic stability, and cultural and community context.
Using a validated metric derived from the U.S. census bureau, the study applied a social deprivation index (SDI) to over 12,000 chronic pain patients being treated with Sword Health's digital physical therapy (PT) program. The question was whether patients across the five SDI categories would experience Sword's program similarly (in terms of engagement, satisfaction, clinical outcomes, and productivity recovery), despite the greater disease burden observed in more socioeconomically vulnerable members.
Here's what the study found:
Sword members in all SDI categories experienced similarly significant recovery in all studied outcomes (pain, analgesics intake, mental health, and productivity)— demonstrating that Sword is better poised than traditional PT to promote equitable recovery within historically marginalized communities.

Patient engagement and satisfaction was high across all SDI categories. These results show that Sword Health's patient-centered approach and culturally sensitive care team promote equity in MSK care, beyond just eliminating geographic restrictions and time barriers.
What is health equity?
To grasp the significance of these study results, it is important to understand the concept of health equity. Here is how the Centers for Disease Control and Prevention (CDC) defines it:
Health equity is the state in which everyone has a fair and just opportunity to attain their highest level of health. Achieving this requires focused and ongoing societal efforts to address historical and contemporary injustices; overcome economic, social, and other obstacles to health and healthcare; and eliminate preventable health disparities.
As this definition implies, there are a host of non-medical factors that can either help or hinder people when it comes to achieving their optimal health—such as income, education, job security, food security, housing, social inclusion, and access to healthcare services. These factors are called social determinants of health (SDOH), and they account for 30-55% of health outcomes. According to the World Health Organization (WHO), the same relationship between health and socioeconomic status is observed worldwide: "The lower the socioeconomic position, the worse the health."
According to a 2021 study, socially deprived groups have:
Greater risk of various major diseases
Worse prognosis and higher likelihood of disease progression for various conditions
Higher rate of surgical complications
Less access to healthcare services
Increased incidence of trauma
Worse functional and psychological outcomes
Lower patient satisfaction with healthcare services
In other words, our healthcare systems are not set up to serve people equally across all socioeconomic groups—and that must change.
What disparities exist in MSK care?
MSK is no exception to the social gradient in health, wherein more socially deprived groups have worse baseline health and prognosis. In particular, poverty, low education levels, and being people of color have been associated with a higher prevalence of MSK complaints, poorer MSK function, and greater MSK pain severity.
In addition to experiencing worse MSK health at a baseline, these groups—particularly those with lower levels of education, those in a rural area, or those in a low socioeconomic class—have lower accessibility to in-person PT. The inability to access and/or adhere to PT treatment for MSK pain and injury leads to worse outcomes, including costly and invasive treatment escalation that could have been avoided through timely PT. It also increases the likelihood that acute pain will become chronic or recurrent—creating a vicious cycle of needing care that one is unable to access.
How does Sword Health promote health equity in MSK care?
Sword Health's digital PT program—which combines therapeutic exercise with pain education and cognitive behavioral therapy (CBT)—allows patients to complete their therapy sessions anytime, anywhere. Therefore, like many other digital care solutions, it advances health equity by breaking down barriers related to time and geography: distance from providers, provider shortages, long waiting lists, inability to take time off work, and lack of transportation, to name a few.
But, while digital care's ability to resolve time and geographical constraints is well established, its potential to target other social determinants of health was largely unexplored prior to this new study in Nature Digital Medicine. What the research suggests is that Sword Health's culturally sensitive approach to digital PT is, in fact, capable of targeting SDOH other than time and geography, resulting in the equitable rehabilitation of all patients.
So, how do we do it?
Our workforce is among the most diverse in the digital health sector. Our clinical team is 69% female and 16% Black—5x the national average. About 23% of our clinicians come from underrepresented groups, and 11% are bilingual. Approximately 7% identify as LGBTQIA+ (matching the percentage of people who identify as LGBTQIA+ in the United States). We allow each patient to choose their therapist from this diverse pool of doctors of physical therapy—because patients from underrepresented groups or ethnicities are generally more satisfied with their care, and can form a stronger therapeutic alliance, when treated by health professionals from similar cultural or ethnic backgrounds.
We also:
Provide cultural competency training to clinicians, as well as training on unconscious bias
Train clinicians in motivational interviewing and other trust-building communication styles
Give clinicians and members multiple ways to easily connect (chat, text, phone, video) and build a therapeutic alliance
Offer language support/translation services to members
Tailor treatment programming to each member's clinical and cultural needs
Provide free hotspots for people without access to reliable Internet service
Offer our programs at no cost to members, thanks to our partnerships with employers and health plans
Conduct trailblazing clinical research on diversity, equity, and inclusion (DEI) in MSK care
If you are looking to free all your people from pain, request a demo.
SHARE THIS ARTICLE
Get the latest news from Sword