Artemis Announces Partnership with Sword Health to Help Employers Address the Musculoskeletal Conditions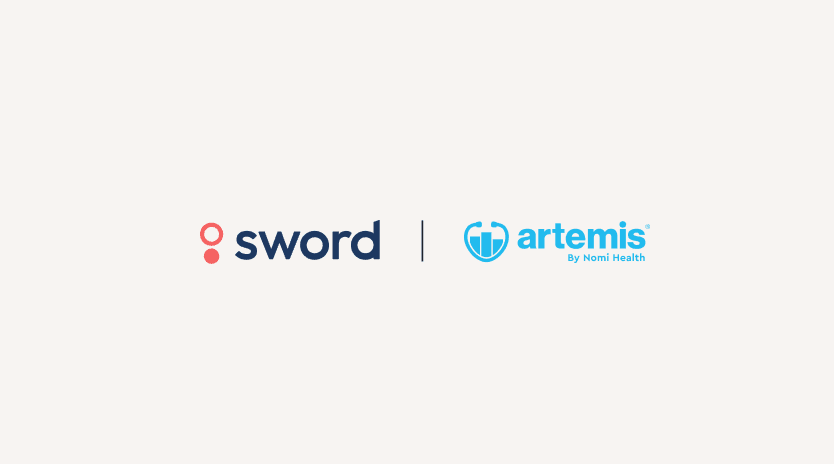 (SALT LAKE CITY, Utah (Feb 1, 2023) — Artemis by Nomi Health, a best-in-class benefits analytics platform, today announced a partnership with Sword Health, the world's fastest-growing digital musculoskeletal (MSK) company to more than 1,400 employers tackling one of the top three cost claims for employers.
As part of the partnership, Artemis clients will be able to evaluate their need for musculoskeletal care within their population and seamlessly add Sword Health services to their benefits offering through their existing contract with Artemis.
"It is almost unbelievable when we hear that half of Americans suffer from MSK conditions," said Sanjay Motwani, General Manager, Artemis by Nomi Health. "Employers are helping address cost and productivity concerns related to MSK through innovative digital health solutions, and Artemis is helping assess the efficacy of such critical solutions through its analytics platform."
MSK care costs employers more than mental health and cancer combined, surmounting more than $300 billion annually. Sword Health's digital solution addresses this pain point by tangibly reducing costs. Via the partnership, Sword Health further drives down costs by providing stronger analytical data on how well their MSK solution works for their clients' populations.
"We live in a time where many people suffer in silence or prematurely undertake costly procedures, and that doesn't have to be the case. Whether it is acute or chronic pain, Sword provides a comprehensive solution to create a pain-free and lasting change for the member," said Dr. Vijay Yanamadala, Chief Medical Officer at Sword Health. "Artemis provides our customers with measurable, quantifiable data that, when combined with Sword's rigorous data-driven models, allows them to better address their rising MSK spend."
For more information about Artemis, visit https://www.artemishealth.com.
About Sword Health
Sword Health, the world's fastest-growing digital musculoskeletal (MSK) company, believes in the power of people to recover at home without resorting to imaging, surgeries, or opioids. As the first digital solution to pair its members with a licensed physical therapist and the Digital Therapist, Sword delivers a clinically proven, personalized treatment plan that is easier, more effective, and less expensive than the traditional gold standard of care. Now, Sword has expanded into new categories as part of its mission to free two billion people from pain. Earlier this year it launched Bloom, the first digital pelvic health therapy solution designed to treat the 1-in-4 women who suffer from a pelvic health condition. As of November 2022, Sword is now pioneering a new category of movement health, which combines the focused approach of physical therapy with the whole-body appeal of fitness. Every Sword solution leverages technology and human expertise to deliver better engagement and outcomes than traditional healthcare methods. Since entering the market in 2020, Sword Health has worked with insurers, health systems, and employers in the U.S., Canada, Europe, and Australia to make high-quality musculoskeletal care and beyond accessible to everyone.
About Artemis by Nomi Health
Artemis by Nomi Health strives to help fix healthcare in America by making it easy for self-insured employers to use their own benefits data to offer better, more affordable health benefits to their employees. Artemis is part of Nomi Health, a nationwide direct healthcare system making it easier than ever for any healthcare buyer to access the highest quality affordable care for their communities.
SHARE THIS ARTICLE
Get the latest news from Sword