Ask a PT: I've done PT and it hasn't worked—why should I try again?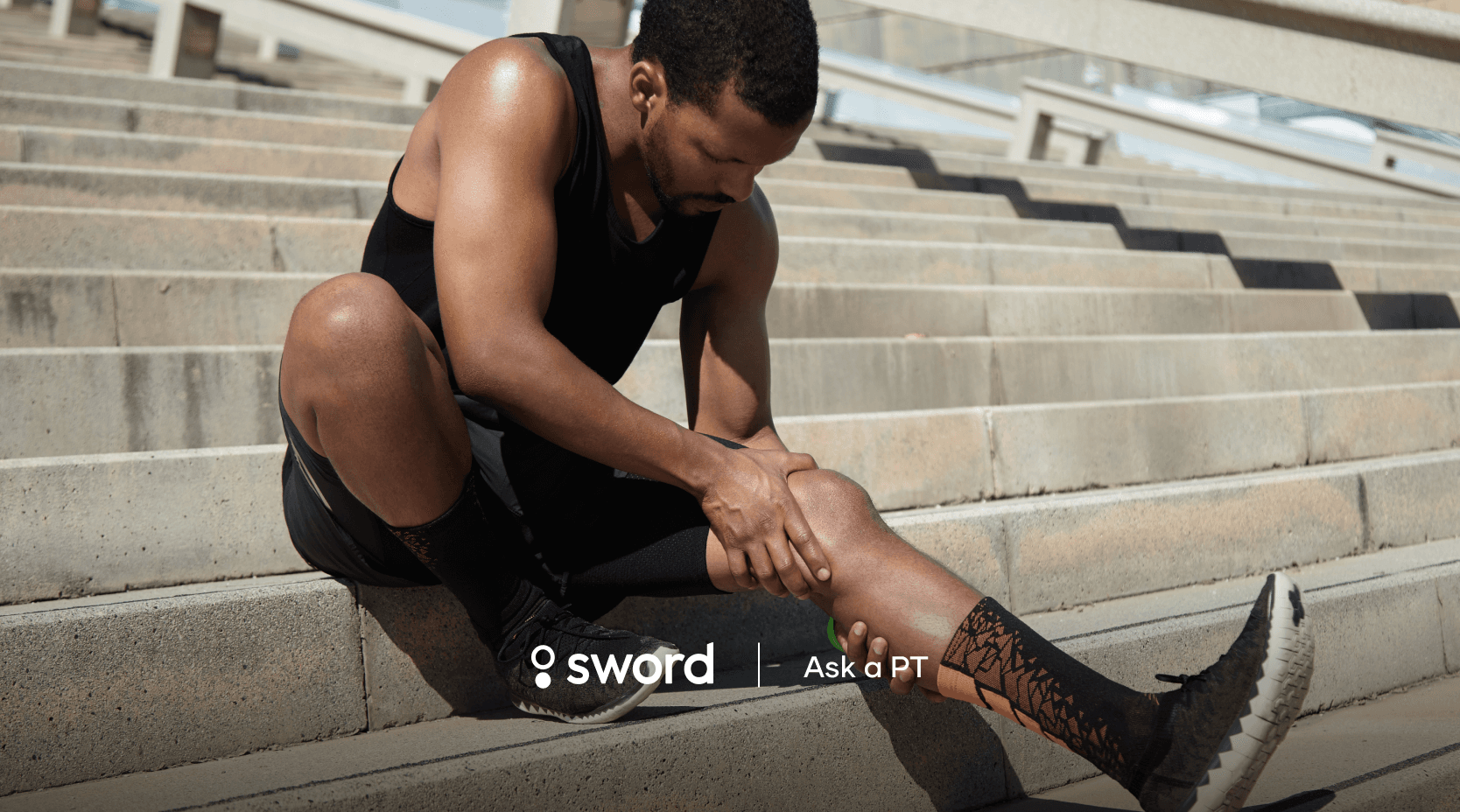 If you suffer from musculoskeletal (MSK) pain and you've tried physical therapy (PT) before with disappointing results, you might feel like you're out of options. We've heard this many times from SWORD members, who have tried everything to feel better: pills, injections, expensive exams, and even surgery - and find themselves still in pain. If this is you, I'm here to tell you you're not out of options. Physical therapy can help you, even if it hasn't helped before. In fact, studies have proven time and time again that high-quality physical therapy works better than anything else for all types of musculoskeletal pain. And it's also the most cost-effective and long-lasting intervention available. Here's why it may not have worked for you in the past, and how to make sure it works for you in the future.
Diagnosis: treating pain at its source
The very first step to healing from pain, after all, is understanding where it's coming from and what caused it. Physical Therapists are uniquely trained to get to the root causes of MSK pain, but their degree of expertise varies, as does their knowledge of the thousands of specific MSK conditions. The wrong diagnosis can put your treatment on the wrong track.
At SWORD, all our PTs specialize in the musculoskeletal system. Each of them has at least 10 years of clinical experience, and their backgrounds vary across a diverse range of specialties. When a member's condition is particularly tricky to diagnose, our PTs tap into the collective knowledge of our community of PTs to get to the bottom of it.
Diagnosis doesn't just happen during a member's first intake call - it happens at multiple points in their journey. When you work with a SWORD PT, they'll analyze the data from your sessions and spot signs that the treatment isn't on track. If they suspect the underlying condition is different from the one they first diagnosed, they change the treatment plan, and in some cases, refer you out to a physician for further investigation.
The right treatment program: practice makes perfect
Physical therapists are known to use a host of techniques in their treatment programs - tricks like massage, electrical stimulation and ultrasound therapy. These tend to feel really good right after you've had them and they may ease your pain for a day or two, but after a while, you'll notice your pain creeping back. Meanwhile, that little piece of paper your PT gave you with your exercise program on it languishes at the bottom of your bag, untouched.
A little-known fact about PT is that you don't need any of the bells and whistles to get better. The one thing you do need is some good, old-fashioned therapeutic exercise. Therapeutic exercise has been clinically-proven time and time again to work wonders for pain management. When you do your exercises consistently, you literally train your pain away. Exercise releases natural pain relievers in your brain, improves blood flow to your muscles and strengthens them so that they're able to move without sending out pain signals.
At SWORD, our PTs design a program that has just the right amount of work for you to get better, and helps you push past your limits safely. Every time you complete a session, your PT analyzes your results and evolves your program to meet your needs. Some days, this might mean making the exercises a little bit harder. Other days, they might scale things back to make sure you can complete your session safely. Over time, you build your physical and mental strength so you can crush your goals without pain.
Feedback: No more wrong moves
What if you've done the exercises prescribed by your PT and it's still not working? You might be doing your exercises wrong at home. In the clinic, the PT is able to see your body moving and give you advice so you can do every rep correctly. They can even literally move your body into the right position. But when they're not around, chances are you'll revert back to the way your body is used to moving - especially when you're in pain. With nobody showing you the right way to move, your noble attempt to do your exercises could be backfiring without you even knowing it.
That's where the magic of SWORD comes in. The motion sensors that you'll wear to do your exercises track your movements precisely - more precisely than human eyes can - and the digital therapist corrects your movements as you're doing them. Once you're done with your session, your PT can see how you're moving and give you advice on how to do even better next time.
Education: knowledge is power
Another myth to bust about physical pain is that it's all in the body. In fact, the brain is the real culprit. You won't even feel pain unless your brain intervenes - if you whack your shin at the exact same time you discover you won the lottery, trust me… the lottery will beat out the shin pain for your brain's attention.
Because of this, it's important to treat the brain as well as the body. This starts with understanding your condition better - what's causing your pain, and what you can do about it. If your PT hasn't given you enough information, your brain may continue to trick itself into thinking your pain is not manageable. You could try to educate yourself, but with so much information out there, it can be hard to filter out the junk. We've all been there - a late night session consulting Dr. Google on the source of your back pain might take you down a dark path.
A good PT starts the brain training by helping you understand the source of your pain in a no-nonsense way, and guiding you to resources that have been properly vetted to help you learn more on your own. Our PTs start the education process from the very first video call, and curate a library of educational content to help you learn more along the way.
Behavioral coaching: the power to change from within
Have you ever left the PT clinic thinking "I got this!" only to turn up at your next session skeptical and unmotivated once again? Physical therapists are trained to motivate and coach you to make lasting changes, but unless that motivation comes at the very moment you need it, it's less likely to work. And if you're not motivated to change, or you've forgotten why you're doing this, or your belief in yourself lapses, not only does it make you less likely to do your exercises, it makes you more likely to think that your pain controls you, rather than the other way around.
When combined with education, behavioral coaching can work wonders for your physical health. Behavioral interventions are recommended by all the leading clinical bodies, including the CDC and American College of Physicians, as an important part of any physical rehab program.
At SWORD, our PTs have at least a decade of experience in motivating and coaching people just like you to take control of their pain and live an all-around healthy lifestyle. Your PT knows how to give you all the tools you need to get better and make long-lasting life changes. And because we know that the best time for coaching is in the moment, they're available to chat with you whenever you need them. So when you're unloading the groceries from the car and you feel your back twinge again, you can tell your PT right then and there rather than waiting for your next appointment.
Convenience: therapy whenever and wherever you like
As we've learned, physical therapy works… but only if you stick to your program. We hear time and time again that sticking to a program can be tough when you need to make appointments, commute to the clinic, and wait in the waiting room. Some of us are reluctant to even start physical therapy, because we're far too busy to commit that much time and hassle to ourselves. The pandemic has made this even more difficult: even if you feel safe going into a clinic, social distancing rules make appointments harder to come by.
That's where SWORD comes in. We've brought together the very best of physical therapy with game-changing tech to make it possible for you to do your PT program at home - whenever and wherever you like. Our members do their PT in the nursery while their child is sleeping, in their home office between conference calls, after dinner when the family is in bed, and at 4am before everyone else has gotten up.
Ready to give physical therapy another shot?
Now that you know what good PT looks like, why not give it another try? SWORD Health can help. We combine licensed physical therapists with wearable technology to guide you through a customized program that can help you feel better from the comfort of your own home, on your own schedule. Want to learn more about SWORD? Fill out this form and someone will get in touch.
About the author: Megan Hill, PT, DPT
Megan Hill, Doctor of Physical Therapy, is a licensed physical therapist focused on musculoskeletal rehab and chronic pain management. She dropped her plans to go to law school for physical therapy after a knee injury from the Chicago Marathon left her in need of rehab, and she hasn't looked back since. She's on a mission to empower people to manage their health through exercise, education and coaching, rather than relying on passive approaches.
Megan earned a Doctor of Physical Therapy degree from the University of Illinois at Chicago (UIC). She also holds a Bachelor of Arts degree in psychology from Duke University and is a certified running coach.
Megan lives in Denver, Colorado, where she spends every spare second running, biking, hiking, sailing and stand up paddleboarding with her husband, Layton, and dog, Ollie.
SHARE THIS ARTICLE
Get the latest news from Sword