Race to Relief: Meet Sword Member Joel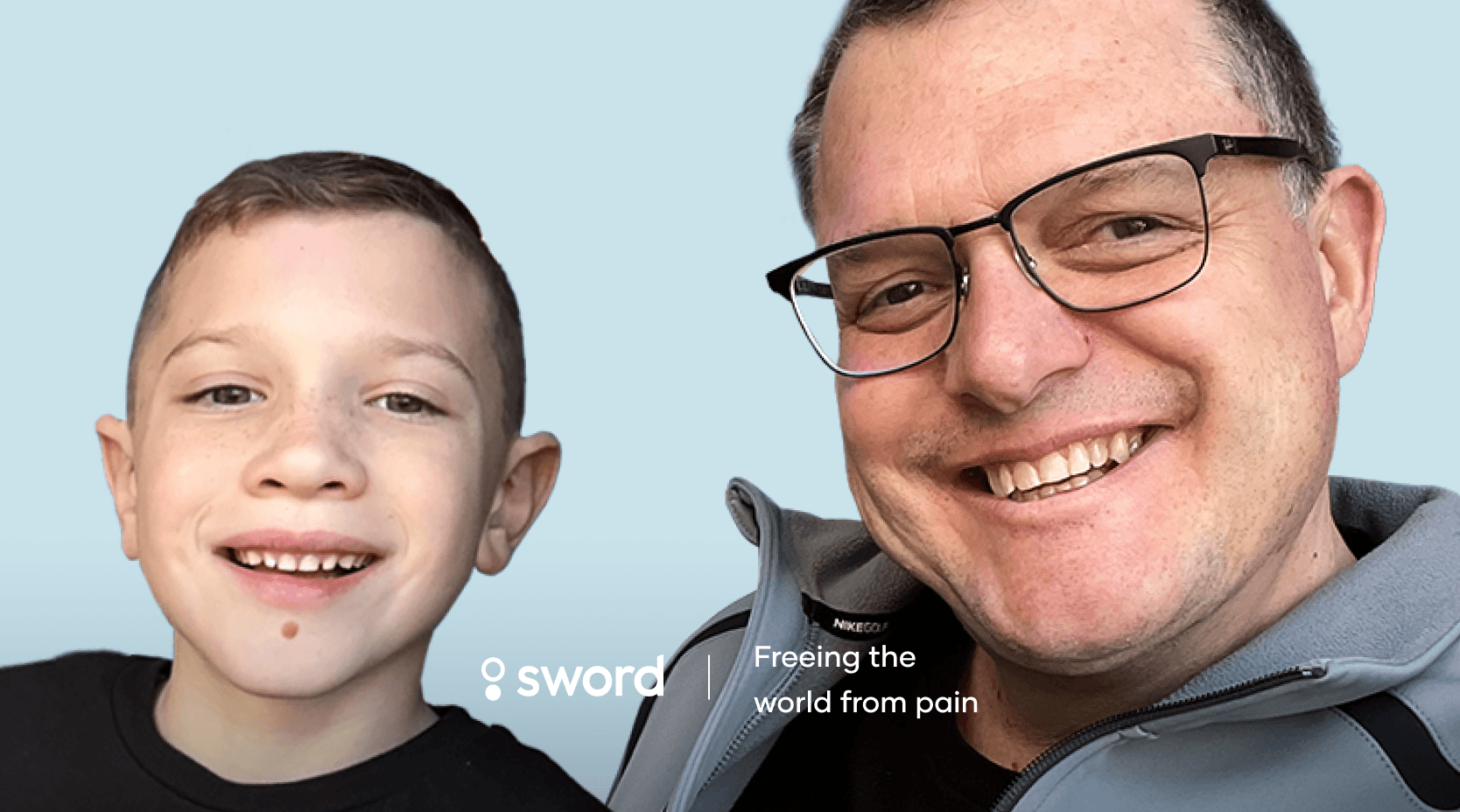 When Sword Health member Joel first started working with his Sword Physical Therapist, they came up with a goal: for Joel to beat his son Jett in a foot race. By the age of five, the aptly named Jett was already able to outrun his dad, and Joel wanted to keep up — or at least stop getting left behind. But after suffering from both a long-ago injury and more recent back and side pain, Joel wasn't sure how he was going to run again, let alone beat Jett.
All his life, Joel had been an incredibly active person; he had been a world-class wrestler and volunteered with the Army National Guard. But in 1998, Joel found himself in a terrible car accident that broke his heel into 16 pieces. "I limped for three years after that," Joel says, "and I always had limitations from that injury. I couldn't do certain things."
More recently, Joel found that his personal activity and fitness levels suffered with the onset of the COVID-19 pandemic. "I was used to walking 10,000 steps a day because I was working. But after the pandemic, I started working from a computer and sitting on a couch, and my activity levels just went way down in the last three or four years."
That's when Joel really began hurting. "I started to experience pains in my right abdomen area, and went through a ton of tests trying to figure out what was wrong." It was only after CT tests, endoscopies, and ultrasounds that Joel's doctors eventually found that what was causing his pain was nerve damage wrapping around his back onto his right side. His pain was excruciating. "I had pain anywhere from a six to a seven [out of ten] on a constant basis every day. Literally to the point where you're sleeping and you wake up in pain. You move, you wake up in pain." And even beyond the physical pain itself, Joel struggled with the emotional toll his pain took not only on him, but on his family, too. "It just got old, and it got very sad telling my son that I didn't feel good."
Realizing his pain was no longer sustainable, Joel decided that it was time to do something. "I heard about Sword from my HR department. At the time, I didn't know what Sword was at all, but I was in so much pain, I was like, physical therapy, that's exactly what I need!"
Joel had no reservations about joining a digital physical therapy program. In fact, it was part of what made Sword so appealing. "It allowed me to do physical therapy at my leisure, at my time, on my schedule. I felt like I had much more control by doing it over the app. I could do it on my terms."
The physical therapist dedicated to Joel's case was Matt, who created a personalized physical therapy program just for Joel. Much of their work together was spent creating customized goals to motivate Joel's program, based on Joel's particular needs, abilities, and preferences.
With each Sword session, Joel found his pain decreasing. "I wasn't complaining about the pain anymore. My pain went from sixes and sevens down to fives, fours, threes, twos, ones, and then to zero." When his pain again increased back up to twos and threes, Matt told Joel not to panic. He encouraged Joel to keep going, assuring him that plateaus of this kind are entirely normal. "In the end, I got back to the zeroes, and it was great," Joel says, noting that his relationship with Matt was a pivotal part of his success. "I felt very fortunate to get Matt because he just was everything I needed when I needed it."
Thanks to Sword, Joel's life no longer revolves around pain. "I don't have to feel like I'm being left behind anymore," he says. "The Sword program made that journey possible."
And as for beating Jett in a race? Well, let's just say that Joel is getting close. "I don't know if I'll ever beat Jett in a race," he says, "but now I can see that maybe someday I can keep up."
To hear first-hand from Joel about his experience with Sword and his recovery, watch this video.
Read about other members' healing journeys with Sword Health:
Interested in how Sword can help you find freedom from pain? Check if you're eligible through your employer or health plan.
SHARE THIS ARTICLE
Get the latest news from Sword